Deion Sanders trades Jackson State for Colorado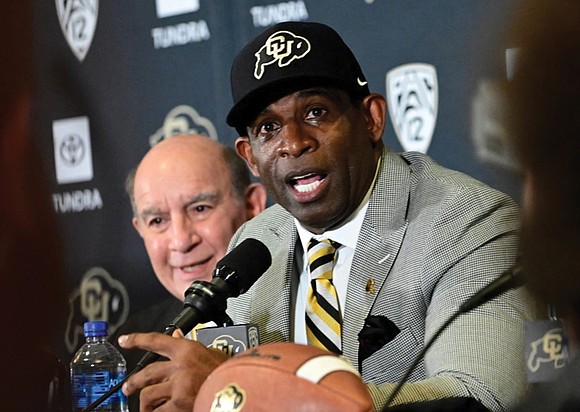 There is a time to come, and a time go, and Deion Sanders is leaving the Deep South and HBCU football for the Rocky Mountains and a Power Five conference.
After three stellar and well-publicized seasons at FCS Jackson, Miss., State of the SWAC, Sanders has signed a contract to become the next coach at the Pac-12 FBS University of Colorado in Boulder.
Never one at a loss for words, here's how Sanders put it:
"In coaching you either get elevated or you get terminated," he told the press last Saturday.
He spoke freely after Jackson trounced Southern, La., 43-24 for the SWAC title before more than 50,000 fans in Jackson and an ESPN audience.
"There aren't any graveyards for coaches where they die at the place," he explained. "They either going to run you off or you going to walk off."
Last hurrah: Sanders has agreed to coach his Tigers one last time in the Dec. 17 Celebration Bowl in Atlanta (noon, ABC) against MEAC champ North Carolina Central. JSU lost to South Carolina State in last year's Celebration Bowl, one of Sanders' more embarrassing moments.
The legacy: Sanders has posted a 27-5 record at JSU with two SWAC titles. In going 12-0 this season, the Tigers have outscored their opposition, 456 points to 135.
He has been interviewed on "Good Morning America," "60 Minutes" appeared on the cover of Sports Illustrated, been a focal point of Aflac commercials, and somehow lured ESPN to Jackson State for Game Day, an astonishing rarity on an HBCU campus.
However, some might suggest he gets an "incomplete" on the exam. There was speculation, perhaps unreasonably, that Sanders might lift JSU, and perhaps other HBCUs, into more of the mainstream of big time college football.
He won some major battles on the recruiting front, using his smile and notoriety (NFL Hall of Fame) to sign blue-chippers who normally would have gone to more well-known "name schools."
Since 2015, the SWAC and MEAC have chosen to play in the Celebration Bowl rather than the FCS playoffs. Jackson State was 0-12 in the playoffs prior to the SWAC/MEAC agreement.
JSU has played just two non-HBCUs under Jackson, losing to Louisiana-Monroe 11-7 last year and nipping Campbell, N.C., 22-14 this season.
Unlike many SWAC and MEAC schools, JSU has chosen not to play in a high-profile game on the road against FBS foes. Those games can be greatly rewarding financially, but also most humbling. Deion Sanders is not the "humble" type.
Family first: Sanders has two sons on the JSU team, star quarterback Shedeur and defensive back Shilo. Almost certainly, both will transfer to Colorado with two years of eligibility.
Prior to JSU, Sanders was the offensive coordinator at Trinity Christian near Dallas, where he coached his sons.
More movement: Most expect several JSU players to follow Sanders to Boulder. Two of the most likely transfers are defensive back Travis Hunter and receiver Kevin Coleman, both five-star high school prospects.
Also, many of the high school and Portal players that Sanders had been recruiting to JSU likely will be redirected to the Mountains. All is fair in love, war and apparently football recruiting.
The contract: Sanders will reportedly earn about $5 million per year at Colorado, about 40 percent more than his highly lucrative (by HBCU standards) JSU contract. He will need to pay back about $300,000 to JSU for breaking that contact.
No soft landing: Colorado was 1-11 this past season, losing to Utah 63-21 in the final outing. The Buffaloes were outscored 534-185.
Coach Karl Dorrell, who is Black, was fired after a 0-5 start. The Buffaloes haven't won a bowl game since 2004 and clearly occupy the Pac-12 cellar.
Introducing: Sanders has recommended that T.C. Taylor be the next JSU coach. Taylor, a former Tigers' QB, served as the receivers coach this year.