Panthers celebrate 83-62 win against Augusta
Raemaad Wright scores 34 points, makes 16 rebounds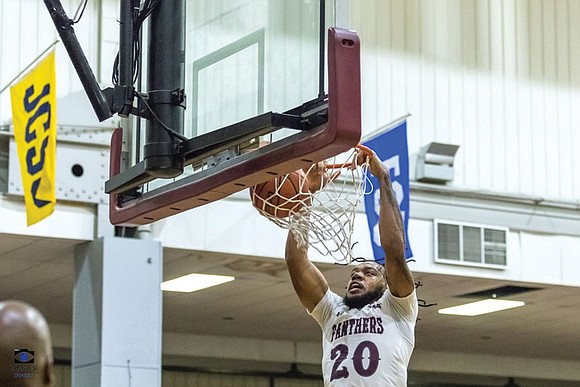 Timberrrr! The nation's No. 2 team has taken a fall, with Raemaad Wright among those cutting it down to size.
With Wright the star of stars, Virginia Union University scored one of its more notable victories in recent seasons, felling Augusta, Ga., University, 83-62, at rollicking Barco-Stevens Hall.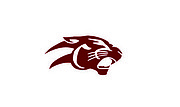 "It's a big-time win for our program," said VUU Coach Jay Butler.
This triumph, coming in VUU's first home game of the season, should register on the national scene. VUU was No. 20 before and figures to skyrocket in the next poll.
Augusta, the defending NCAA Division II runnerup, came to Barco undefeated, ranked No. 2 in the NABC poll and featuring 7-foot-1 Tyshaun Crawford, who had to duck to get into the gym's back door.
If Crawford was All-American, Wright was "All World," at least on this special occasion.
Some of the elite big men in VUU and CIAA annals have starred on the Barco stage — NBA bound Charles Oakley, Terry Davis and Ben Wallace among them.
Still, none could have shone brighter than Wright did against Augusta.
A fifth-year senior from Suffolk, the 6-foot-7 Wright scored 34 points, snared 16 rebounds, blocked two shots, made two steals, and nailed four-of-six 3-pointers. He shot 12 of 16 from the floor and 6-for-6 at the foul line.
"Raemaad played a fantastic game, especially considered he hadn't practiced much this week due to an injury," said Coach Butler.
Crawford finished with 11 points, nine rebounds and two blocked shots in 34 challenging minutes against the fired-up Panthers.
"I thought our guys were locked in form the start," Coach Butler said, noting that the Panthers out-rebounded Augusta by a resounding 40-23.
The win lifts VUU to 7-1 and was the 300th career win for Coach Butler, counting VUU and his previous stint as women's coach at the University of District Columbia.
Wright had plenty of company in the VUU spotlight. Robert Osborne had 17 points, 10 rebounds and two steals and Devon Sims added 10 points and three assists.
A 6-foot-5 senior from Centreville, Sims has more than doubled his production from a year ago.
Next up for the Panthers is a 2 p.m. Barco date Saturday with invading Salem, W.Va. VUU defeated Salem, 75-72, last year in West Virginia.
VUU is 17-2 over its last 19 games over two seasons. The Panthers won 10 straight a season ago before losing to Fayetteville in the CIAA finals.