'Treat everybody like family,' advises Michael Curry, presiding bishop of the Episcopal Church

Last Saturday marked months of planning for the ordination and consecration of The Rev. Canon E. Mark Stevenson as the 14th Bishop of the Diocese of Virginia on Dec. 3 at The Saint Paul's Baptist Church in Henrico County.
The public service, which drew nearly 1,500 people, including 37 bishops from across the world, was the culmination of Bishop Stevenson's June 4 election at St. Stephen's and St. Agnes School in Alexandria.
The national Presiding Bishop of the Episcopal Church, Michael Bruce Curry, led Bishop Stevenson's ordination and consecration and preached the sermon before bishops who traveled from Liverpool, England, Tanzania, Ghana and other countries, said Rev. Marlene E. Forrest of the historic St. Philips Episcopal Church on Richmond's North Side.
Rev. Forrest, who was installed as the 23rd rector of St. Philip's last May 14, served on Bishop Stevenson's transition committee as part of the Liturgy Team. It was a volunteer position that "quite a few people applied for," Rev. Forrest said.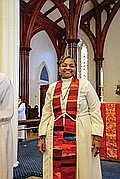 In addition to the bishops from other countries, 200 clergy from throughout the Diocese of Virginia and elsewhere attended what Rev. Forrest considers "a celebration".
Weeks leading up to the consecration was a "lot of work, but a work of love," Rev. Forrest said in noting how pleased she is with the outcome.
"It was a real worshipful celebration," she said, adding how thankful the congregants are to have Bishop Stevenson in place after several years without a permanent bishop. Bishop Stevenson succeeds the Rt. Rev. Shannon Johnston who retired in 2017. Virginia Suffragan Bishop Susan E. Goff served as ecclesiastical authority in the interim years.
"I didn't think I'd get so emotional. It's a new beginning and he (Rev. Stevenson) is such a man of integrity and so authentic."
Bishop Stevenson is the canon to the presiding bishop for ministry within The Episcopal Church. He is the principle liaison between presiding Bishop Michael Curry and the House of Bishops, the various dioceses and many of the governing bodies of The Episcopal Church.
Bishop Stevenson previously was the director of Episcopal Migration Ministries, leading a dedicated team in executing a national program of refugee resettlement. Previously, he served as domestic poverty missioner for The Episcopal Church. He also served as canon to the ordinary in the Diocese of Louisiana from August 2005 until September 2013. Following Hurricane Katrina, Bishop Stevenson worked closely with local, regional, national and international leaders and groups to put into place the processes for effective relief and other ministries.
During his sermon, Presiding Bishop Curry, who practically became a household name when he delivered the sermon during the 2018 wedding ceremony of Britain's Prince Harry and Meghan Markel in Windsor Castle, shared the words of the Sister Sledge musical group by singing a few bars of "We Are Family." The audience clapped along.
"Jesus came to show us how to be family and the truth is we already are," he said. "It's just a matter of being who we are." He encouraged the Diocese
audience to "treat everyone like your family and then work to build a society, a church and a world where everybody is a child of God."
In concluding his sermon, Bishop Curry said "Virginia, join hands with Mark and help us to become who God has called us to be."
Elected in 2015 to a nine-year term, Bishop Curry is The Episcopal Church's chief pastor, spokesperson, and president and chief executive officer. He widely is considered a prophetic leader, particularly in the areas of racial reconciliation, climate change, evangelism, immigration policy, and marriage equality.
Bishop Curry has been extensively involved in Crisis Control Ministry and the Absalom Jones Initiative, founding ecumenical summer day camps for children, preaching missions, creating networks of family day care providers and educational centers, and brokering millions of dollars of investment in urban neighborhoods.
In 2018, Religion News Association named him Religion Newsmaker of the Year.