Rev. Marlene E. Forrest to be installed as rector of St. Philip's Episcopal Church
5/5/2022, 6 p.m.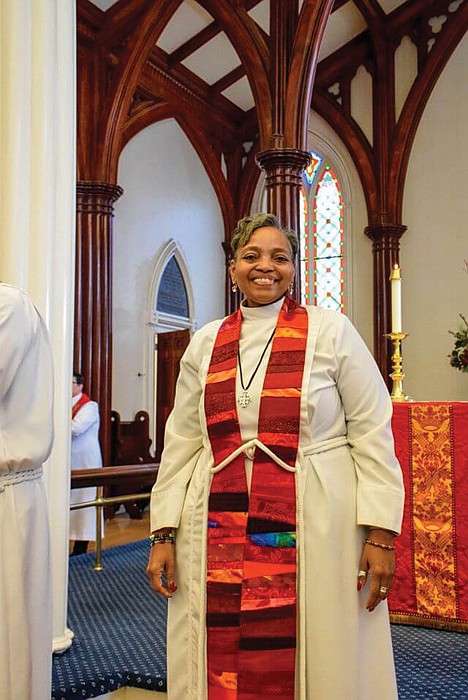 The Rev. Marlene E. Forrest will be installed as the 23rd rector of historic St. Philip's Episcopal Church in North Side on Saturday, May 14.
The ceremony is scheduled for 1 p.m. at the church, 2900 Hanes Ave.
Rev. Forrest's installation comes nearly two years after she was named priest-in-charge of the 300-member congregation, the largest Black Episcopal congregation in Virginia. She will succeed Bishop Phoebe A. Roaf, who led the church for eight years until she was installed as bishop of West Tennessee in May 2019.
Rev. Forrest will take over the South's oldest Black Episcopal church, which began operations in 1861, the same year the Civil War began.
Born into the faith, she earned her master's of divinity in 2018 from Virginia Theological Seminary in Alexandria, where before graduation she organized and served as president of Seminarians of Color Union. At graduation, she was honored with an award for reading and scripture liturgy.
Ministry is the second career for the former special education teacher who retired after 30 years of working with students with emotional, mental and physical disabilities in Northern Virginia.
Before entering the seminary, she was active in Meade Memorial Episcopal Church in Alexandria, where she served as a lay preacher, Eucharistic minister, worship leader and youth minister and also sang in the choir.
She earned her undergraduate degree from Virginia State University and earned a master's in education at George Mason University.
Rev. Forrest previously served as assistant rector for youth and family services at St. Peter's in the Woods Church in Fairfax Station. She also served on various Diocese of Virginia committees and is the chaplain for youths and young adults for the National Union of Black Episcopalians.