Jordan Pendleton, 10, roars to lead role as young Simba in national tour of 'The Lion King'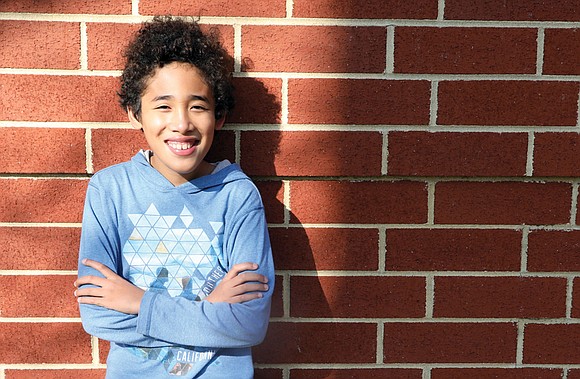 Richmond's Jordan Pendleton has been selected to play young Simba in a national touring troupe of Disney's "The Lion King."
The 10-year-old fourth-grader at Mary Munford Elementary School was cast in the role in December and will be leaving Richmond to begin rehearsals in March.
North American touring productions of the hugely popular musical have been seen by more than 20 million theatergoers in more than 90 cities.
While Jordan will not be performing with the troupe when it opens March 9 for a two-week run at the Altria Theater, he will be lighting up the stage on a six-month tour to multiple cities, starting in Columbia, S.C., in late March.
"I was very happy to be selected," Jordan said during a Free Press interview earlier this month as he prepared to go on tour. "I was jumping around and screaming. I was so happy."
He said it was his first audition he'd ever had for a professional role.
"I just love to entertain people. I love to perform. I love to be around people in general because that makes me light up with energy," he said.
He's the oldest of the Pendleton siblings that include brother Isaiah, 8, and sisters Christian, 6, and Hannah, 4.
Jordan's journey into the entertainment world started with acting classes at the Weinstein Jewish Community Center in Richmond, where performances did not have audiences because of the COVID-19 pandemic. He also has been taking voice lessons for a year and a half.
His love for acting also took him to New York and the Broadway Artists Alliance that provides professional training for promising young musical theater performers. There, he was among other highly talented child and teen performers studying voice, acting and dance with Tony Award winners and current Broadway performers.
When he was 9, he submitted audition tapes for "The Lion King" showcasing his singing and performance ability. In his final callback audition, Jordan performed young Simba character scenes and songs.
The rest is history. He will be making his young, professional debut next month, with rehearsals beginning shortly in Greensboro, N.C., where the show is currently.
"It's beginning to feel real," Christina Pendleton, Jordan's mother, told the Free Press as they returned to Richmond from a costume fitting in New York.
Mrs. Pendleton said she was shocked initially that Jordan won the role.
"I couldn't believe it. I totally didn't expect Jordan would get the part," she said. "I was very, very happy and surprised."
Mrs. Pendleton said she will be traveling with her son for the first half of his tour. His grandmother, Joy Ryu, will travel with him during the second leg through late September.
Darian Sanders, 36, of Louisville who plays the older Simba with the troupe, said he is excited to meet Jordan, and he offered some advice for the young thespian.
"You can bring your personality and all of the things you've learned during the 10 years you have lived life," Mr. Sanders said. "All of that can be brought to the stage."
He said he enjoys working with youngsters in theater.
"There is a realness and rawness inside of the young actors," he explained. "It is beautiful to see them develop and grow."
During the tour, Jordan will keep up with his schoolwork with three hours of tutoring each day. Officials at Mary Munford Elementary will be communicating with the Lion King tutor and sending materials to make sure Jordan stays up with the class. Principal Greg Muzik said the school is working to set up Jordan electronically so he can participate with some of his classroom activities via RPS' virtual online system.
Teachers also will provide packages of materials so Jordan, with his tutor, can work on daily activities as well as Standards of Learning objectives during the tour.
"Jordan is an excellent student. He will be fine," Mr. Muzik said. "Every student at Mary Munford is happy and excited for Jordan," he said with pride.
Learning about Jordan's new theatrical opportunity, RPS Superintendent Jason Kamras wrote, "We are incredibly proud of Jordan and can't wait for the whole country to see the greatness of RPS students."
Richmond School Board member, Liz B. Doerr, 1st District, also sent her congratulations.
"Jordan is an example of what RPS is all about — supporting students in every way we can to fulfil their dreams," she stated.