Piece of the pie: Joyebells gives back to community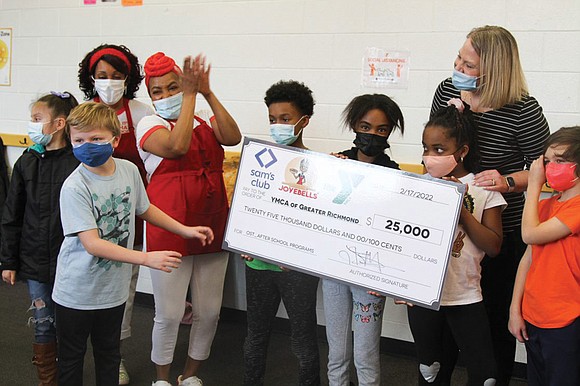 Joye B. Moore's recipe for supporting the community is just as sweet and as her now famous Joyebells Sweet Potato Pies.
Surrounded by a group of youngsters at the Northside Family YMCA on Old Brook Road Feb. 17, Ms. Moore presented a $25,000 check to the YMCA of Great Richmond to boost its after-school programs for children.
The money, a donation on behalf of Ms. Moore's company, Joyebells LLC, was from Sam's Club USA, where Ms. Moore's pies will be sold in all 600 locations by year's end and her Joyebells Peach Cobblers will be launched by mid-year.
Ms.Moore credited the YMCA in South Dallas, Texas, for providing a meal and a safe place each day for her and her sister, Cassandra Wheeler, Joyebells' director of production, while they were homeless as teens as a result of child abuse.
Ms. Moore said the staff was supportive and kept her from becoming a statistic.
"Both of us had the opportunity to graduate high school on time" because a YMCA staff member
she called Ms. Tina encouraged and cared about her, asking every day if she had homework.
Ms. Wheeler said, "We could depend on Ms. Tina because we knew she was going to be there every day."
Ms. Moore said it was "only appropriate" that the YMCA be the first recipient of Joyebells Charities.
"I know what can happen at the YMCA," she said. "This is a safe place with meals, encouragement and inspiration. The Y is creating a stairstep for the little Joyebells that don't have inspiration at home for whatever reason."
She told the Free Press she hopes the donation can help "continue the after-school programs and expand the types of programs to enable children to learn."
Alexandra Moore, vice president of philanthropy for the YMCA of Greater Richmond, said the gift will enable the YMCA "to serve even more children in our after-school care programs, allowing parents to work and supporting families as they know their children will be cared for in a safe and enriching environment."