Events to commemorate the legacy of Dr. Martin Luther King Jr.
1/13/2022, 6 p.m.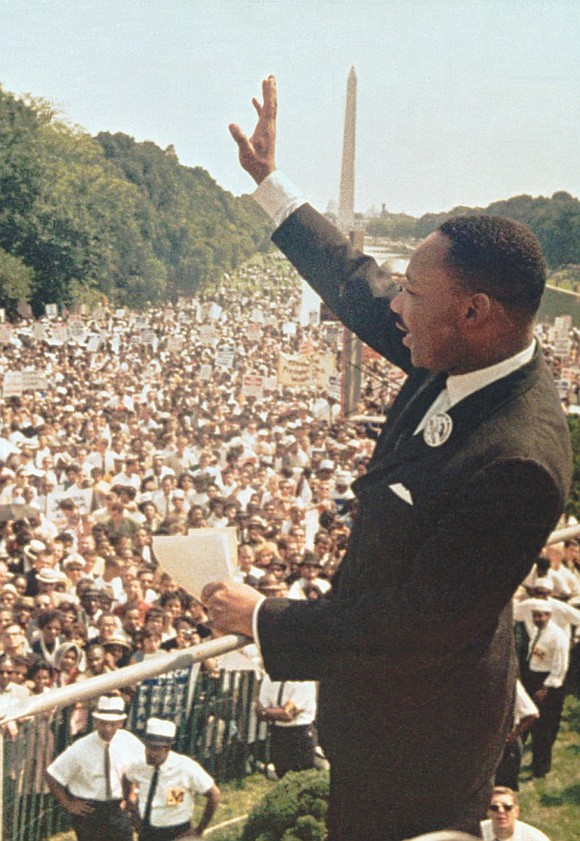 The life of Dr. Martin Luther King Jr., the nation's "drum major for justice," will be celebrated in person, virtually and on television during the annual national holiday Monday, Jan. 17.
Following is a list of events commemorating Dr. King's life and legacy:
• Virginia Union University to host the 44th Annual Martin Luther King Jr. Community Leaders Celebration at 9 a.m. Monday, Jan. 17.
The event will be broadcast and streamed on WTVR-CBS 6 in Richmond, and on WGNT-CW 27 in Hampton Roads.
Several leaders and organizations will be recognized for their efforts that demonstrate Dr. King's spirit of selflessness and commitment to the empowerment of the "beloved community."
The year's award winners are former Richmond City Councilwoman Willie J. Dell, Martin Luther King Jr. Legacy Award; the Richmond and Henrico health districts, Health Equity Award; Clovia Lawrence and Sandra Antoine for Operation Stamp the Vote, Social Justice; the Rev. Robert Winfree and New Life Deliverance Tabernacle, Faith; Janine Bell and the Elegba Folklore Society, Art and Culture; An Achievable Dream Inc. of Richmond and Hampton Roads, Education; and the Ujima Legacy Fund and the SisterFund, Economic Justice.
Details: Felicia Cosby, VUU's director of government and community relations, fdcosby@vuu.edu.
• Rallying Towards the Future: Living Dr. King's Dream, 9 to 11 a.m. Monday, Jan. 17, The Overlook at ChildSavers, 200 N. 22nd St., hosted by Voices for Virginia's Children. The rally for Virginia's children, young people and families seeks to recognize the past and mobilize present-day solutions toward realizing Dr. King's dream. Several speakers are expected, along with art and printmaking by Studio Two Three and meditation by BareSoul Yoga.
The event is free. Masks are required regardless of vaccination status.
Details:vakids.org
• Henrico Ministers' Conference 36th Annual Dr. Martin Luther King Jr. Commemoration Program, 9:30 a.m. Monday, Jan. 17, at St. Peter's Baptist Church, 2040 Mountain Road in Glen Allen.
Guest speaker: Dr. Price London Davis, pastor of Mosby Memorial Baptist Church.
Details: Contact President Zynora D. Manson, zdmansonfulltone9@gmail.com
• Henrico County 36th Annual Dr. Martin Luther King Jr. Day Commemoration Celebration, a virtual celebration 11:30 a.m. Monday, Jan. 17. Speaker: Dr. Ronald A. Crutcher, president emeritus and university professor at the University of Richmond.
The Lights of Hope, "Keepers of the Dream" scholarship, Distinguished Community Service and Lifetime Achievement awards will be awarded.
Details, and to view the program, go to Henrico County Dr. Martin Luther King Jr. Commemoration Association on Facebook and/or YouTube.
• HandsOn Greater Richmond Martin Luther King Jr. National Day of Service: "A Day On, Not a Day Off," various volunteer opportunities throughout the King Holiday weekend at sites in Richmond and Petersburg. Some of the projects include historic Evergreen and East End cemeteries cleanup; Ancarrow's Landing habitat restoration; James River Park System invasive species removal from The Wetlands; book drive for Ettrick Elementary School; MLK Day mural project at Virginia State University; and Blessing Box food drive.
Details, including dates, times and locations for volunteer opportunities: handsonrva.org.
• "Get Up, Stand Up: The Other Part of the Dream," Jan. 16, 17, 22 and 26, a series of free performance and talkbacks honoring the legacy of Dr. King, sponsored by the Virginia Commonwealth University Office of Institutional Equity, Effectiveness and Success.
The show, written especially for VCU's 2022 MLK Week, explores Dr. King's lesser-known speeches, sermons and writings illuminating his call to action and what it means for us as a community today.
Performances:
Sunday, Jan. 16, 3 p.m., Grace Street Theatre, 934 W. Grace St. Monday, Jan. 17, 7 p.m., Boys and Girls Club, 1830 Creighton Road
Saturday, Jan. 22, 3 p.m., Robinson Theater Community Arts Center, 2903 Q St.
Wednesday, Jan. 26, 7 p.m., VCU Student Commons, 907 Floyd Ave.
Each performance will include a facilitated talkback with the audience, cast and crew. Seats, which will be socially distanced, are available on a first-come, first-served basis. Masks and temperature checks are required.
Details:mlkday.vcu.edu.
• "We Cannot Walk Alone," a series of events sponsored by the University of Richmond Bonner Center for Civic Engagement for its Martin Luther King Jr. Celebration 2022.
Events include "Mending Walls Film Screening and Panel Discussion, 2 to 4 p.m. Sunday, Jan. 16. In this virtual event, participants are asked to watch on their own the documentary, "Mending Walls," about the public art project Mending Walls RVA aimed at establishing empathy and connection through art. Participants then can join a Facebook Live panel discussion at 2 p.m. with lead artist Hamilton Glass and artists Sir James Thornhill and Kevin Orlosky, and then join breakout Zoom sessions at 3 p.m. to explore themes from the film.
The event is co-hosted with HandsOn Greater Richmond, the Virginia Center for Inclusive Communities and VPM.
11 a.m. to noon, Monday, Jan. 17, "Community Conversation: Creating a Culture of Consent," UR Multicultural Student Space. Kaylin Tingle, healthy relationships and violent prevention educator, and UR students will talk about supporting a climate in which the risk for violence and sexual assault is reduced.
12:15 to 1:15 p.m., Monday, Jan. 17, "Community Conversation: Respecting all Faiths," Westhampton Deanery. Josh Jeffreys, Jewish chaplain and director of religious life in the UR Office of the Chaplaincy, will discuss how to support UR's underrepresented religious communities.
1:30 to 2:30 p.m. Monday, Jan. 17, "Community Conversation: Institutional History," Jepson Faculty Lounge. Public historian Dr. Lauranett Lee and students in her "History in a Changing World" course at UR will talk about efforts at UR and other institutions to deal with ties to slavery and segregation.
Details and registration: engage.richmond.edu.
• "History Alive! Rev. Dr. Martin Luther King Jr.: The Last Five Years," a virtual program with interpreter John W. McCaskill as he chronicles the last five years of Dr. King's life and shares stories of other individuals who fought to end racial segregation, 1 to 2 p.m. Monday, Jan. 17, and Monday, Jan. 24, National Museum of African American History and Culture.
The program is free. No registration required.
Details and to join the event: https://nmaahc.si.edu/events/ history-alive-rev-dr-martin-luther-king-jr-last-five-years