Rayford L. Harris Sr., longtime educator, policymaker, adviser and GOP activist, dies at 97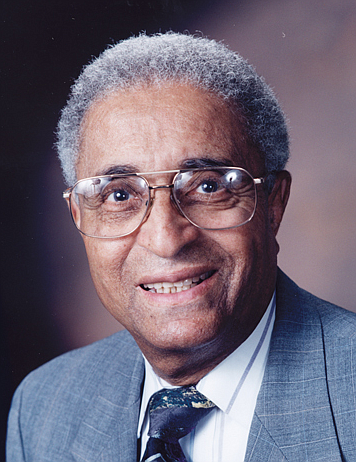 Rayford Lee Harris Sr., who touched the lives of untold thousands of Virginia students as an educator and policymaker, has died.
A kindly, mild-mannered man, Mr. Harris was a former chairman of the Richmond School Board and was involved in the creation of the initial Virginia Standards of Learning as a member of the state Board of Education during the mid-1990s.
He also was well known for promoting career and technical education at Virginia State University, where he trained legions of students in woodworking, metalworking and other industrial arts during his 32 years as a professor.
A native of Stonesboro, S.C., who lived most of his adult life in Richmond, Mr. Harris died Sunday, Jan. 9, 2022, at his North Side residence. He was 97.
A service celebrating his life will be held 1 p.m. Thursday, Jan. 20, at Scott's Funeral Home Chapel, 116 E. Brookland Park Blvd.
"My father was always a gentleman and always was very serious about his work, his faith and his family," said his son, Rayford L. Harris Jr., retired Richmond city budget director. "If he made a promise, he would keep it."
The eldest of nine children, Mr. Harris was finishing his senior year in high school when he was called up for military service during World War II. He served in the Navy and then returned to complete his high school
education and enrolled in Hampton University. After graduation in 1952, he and his new wife, the late Frances Richardson "Vonnie" Harris, began their educational careers in Richmond.
While his wife taught elementary school students, he taught shop courses at what was then Blackwell Junior High School, with his students earning accolades for the items they produced that would be displayed annually in storefronts on Hull Street.
In 1959, Virginia State University tapped him to lead its new industrial arts and technical education teacher training program. During his tenure, he ensured students had access to the best in machinery and tools, and he was proud that the overwhelming majority of industrial arts teachers in the city came through his program.
He also was proud that future four-star Gen. Dennis Via was among the graduates, as were Sam and Posey Young, who took over the teaching program after he retired in 1991. He was well known as a mentor and for assisting young people to enroll in VSU. The university honored his contributions when he retired by awarding him an honorary doctorate of humane letters.
A lifelong Republican and longtime member of the state Republican Party and the city Republican Committee, Mr. Harris was active in politics and worked on various campaigns to support the election of GOP candidates at the state and national levels.
He also was the first Black member of the Richmond First Club, then an influential group in city politics.
"He always wanted to be certain that African-Americans had a seat at the Republican table when discussions were had and decisions were being made," his son said.
He often provided governors with recommendations for Black appointees as directors and members of state boards and commissions and was consulted on policy issues by top state officials. Recognized for his quiet influence, he secured appointment to the Richmond School Board through City Council member Roy A. West and chaired the board from 1990 to 1992.
Mr. Harris was appointed to the state Board of Education in 1994 by then-Gov. George Allen, a Republican who was seeking to increase educational accountability. During the administration of Republican Gov. Jim Gilmore, Mr. Harris also was named to serve on the State Council of Higher Education.
He also served on state commissions that developed recommendations on training technology teachers, adult education and literacy and on the National Advisory Committee on Accreditation and Institutional Eligibility.
Mr. Harris also belonged to national and local organizations involved with industrial education, including the advisory board of the Richmond Technical Center.
A voting rights advocate, he was a member of the Richmond Branch NAACP and the Richmond Crusade for Voters and also served a term overseeing elections as a member of the Richmond Electoral Board.
Mr. Harris also was a longtime member of the Richmond chapter of the Hampton Alumni Association and was a 72-year member of Omega Psi Phi Fraternity and served in various offices at the local and regional level.
His son said his father loved playing golf and cards, talking politics and traveling. During his life, his son said Mr. Harris visited 48 states and every continent except Antarctica.
"He walked through China's Tiananmen Square just a week before the 1989 uprising and often talked about its effect on humanity," his son said.
In addition to his son, survivors include his daughters, Laurita H. Portee and Sonia Harris; sisters, Mable Mickle and Wilma Jean Roscoe; a brother, Chalmers Harris; and five grandchildren.
The family requests that memorial donations be made either to the Rayford L. and Frances R. Harris Endowed Scholarship at Hampton University or to the Rayford Harris & William Reed Endowed Scholarship at Virginia State University.