Tuskegee Airman Charles McGee dies at 102
1/20/2022, 6 p.m.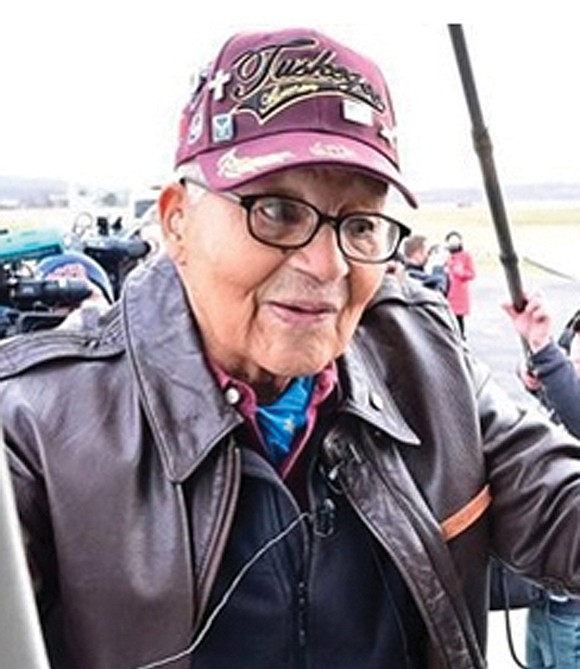 Retired U.S. Air Force Col. Charles E. McGee, a Tuskegee Airman who flew 409 fighter combat missions over three wars, died Sunday, Jan. 16, 2022, in Bethesda, Md.
He was 102.
Vice President Kamala Harris and U.S. Secretary of Defense Lloyd J. Austin III announced his death on Twitter, both of them calling Col. McGee an American hero.
"While I am saddened by his loss, I'm also incredibly grateful for his sacrifice, his legacy, and his character. Rest in peace, General," wrote Mr. Austin, who did not specify where Col. McGee died.
As a Tuskegee airman, Col. McGee was among more than 900 men to train in rural Alabama from 1940 to 1946 after the Army Air Corps was forced to admit Blacks pilots. About 450 deployed overseas and 150 lost their lives in training or combat.
Col. McGee was one of only a few pilots — white or Black — who flew combat missions in World War II, the Korean War and the Vietnam War.
Born in Cleveland, Ohio, on Dec. 7, 1919, Col. McGee enlisted in the Army in 1942 and earned his wings in 1943. During his 30-year active career in the military, he flew tactical missions attacking enemy airfields and top secret rescue missions. He retired on Jan. 31, 1973, with more than 6,300 hours of flight time and 409 combat missions.
He was inducted into the National Aviation Hall of Fame in Dayton, Ohio, in 2011, and received an honorary promotion to brigadier general in December 2019 under a congressional measure signed by then President Trump.
On Feb. 2, 2020, Col. McGee was given the honor to flip the coin to kick off Super Bowl LIV – the Kansas City Chiefs versus the San Francisco 49ers at Hard Rock Stadium in Miami Gardens. He was among four 100-year-olds — all veterans of World War II — to participate in the coin toss in celebration of the NFL's 100 season.
Days later, on Feb. 4, 2020, Col. McGee was honored by President Trump in Washington during the State of the Union address. He and his great-grandson, Iain Lanphier of Scottsdale, Ariz., were recognized in the House chamber at the U.S. Capitol.
"You could say that one of the things we were fighting for was equality. Equality of opportunity. We knew we had the same skills, or better,′′ he told The Associated Press in a 1995 interview.