Britton Wilson finishes second at USATF Championships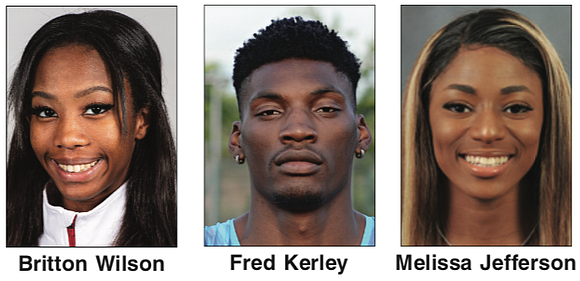 It took a world-record performance to prevent Britton Wilson from being the U.S. 400-meter hurdles champion.
The former Mills Godwin High star finished second to Sydney McLaughlin June 25 at the USATF Championships in Eugene, Ore.
McLaughlin broke the tape in 51.41, snapping her own world mark of 51.46 set last August at the Tokyo Olympics.
Wilson, running in the lane beside McLaughlin, was second in 53.08.
Earlier this season, Wilson won both the 400 hurdles and open 400 while representing Arkansas at the Southeastern Conference meet. She then won the NCAA title in the 400 hurdles.
Next up for McLaughlin and Wilson is the World Champion- ships July 15-24, also in Eugene.
Fred Kerley and Melissa Jefferson are the best in the U.S., and now they're thinking global.
Competing June 25 at the USATF Championships in Eugene, Ore., Kerley won the men's 100 meters while Jefferson finished first among women.
Kerley prevailed in the finals in 9.77 after clocking 9.76 in the semifinals. Those are the best times in the world this season and sixth fastest in history.
Jefferson, a student at Coastal Carolina, won her final in a wind-aided 10.69.
Both advance to the World Championships July 15-24 on the track in Oregon.