Williams makes 'con-Vince-ing' case to Memphis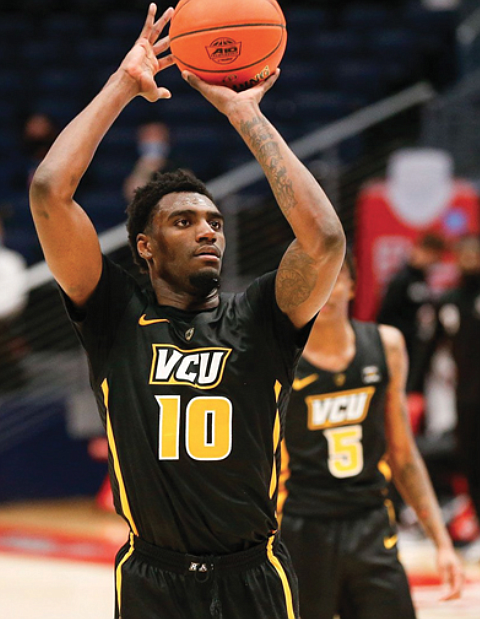 Vince Williams is on a roll. Already he has one of his long sneakers in the NBA door. Now he hopes to continue his luck in Las Vegas.
There's no time for the former VCU standout to let his foot off the gas.
To the surprise of many "experts," Williams was the second round (47th overall) pick of the Memphis Grizzlies in the June 24 NBA Draft in Brooklyn.
In the numerous mock drafts preceding the real draft, his name had not shown up in the top 60.
The versatile 6-foot-6, 205-pound, All-Atlantic 10 athlete from Toledo must have made a "con-Vince-ing" case to NBA scouts at the G-League Combine and also during individual team workouts.
Memphis was one of 13 teams giving Williams closer scrutiny in private sessions. They liked what they saw in terms of his three-point accuracy, determined defense and, in general, all-round skills.
It's just the beginning.
Next up for Williams is the NBA2K23 Summer League in Vegas. The Grizzlies summer league squad will play July 9, 10, 12 and 14 with ESPNU and NBATV coverage.
Williams, who wore No. 10 for VCU, has been assigned No. 5 by Memphis.
More on Williams:
He was one of only four seniors selected out of 58 total picks. It may have helped that he is a young senior. He won't turn 22 until Aug. 30.
The former Ram is one of four Grizzly draftees that will be showing their talents in Vegas.
The others are 6-foot-8 Jake LaRavia (19th pick out of Wake Forest), 6-foot-5 David Roddy (23rd out of Colorado State) and 6-foot Kennedy Chandler (38th out of Tennessee).
If any of the rookies fail to make Memphis' opening roster, they will likely start the season with the franchise's G-League affiliate Memphis Hustle in nearby Southaven, Miss.
There were no fancy suits and shiny chains for Williams on draft night. He watched the show with family and friends in his hometown of Toledo. He flew to Memphis the next day for an intro presser.
The Griz, led by sensation Ja Morant, is coming off an outstanding season in which it posted a 56-26 record. Memphis was eliminated by eventual champion Golden State in the Western Conference semifinals.
Williams is the 23rd VCU player drafted by an NBA team. However, that includes two players — Greg McDougald and Marc Jackson — who started their careers at VCU, only to transfer.
---
Duke's Five Guys: Incoming Duke coach Jon Scheyer will have some holes to fill. Five Blue Devils underclassmen were selected, starting with No. 1 overall Paolo Banchero.
Others were Mark Williams (15th), A.J. Griffin (16th), Wendell Moore (26th) and Trevor Keels 42nd. That is the most picks from one team since the Draft went to two rounds in 1989.
Everyone knew Banchero had the "wow" factor on the court. Then, for his acceptance, he "wowed" a national ESPN audience with a light-up-the-room purple outfit with a diamond studded chain around neck.
There's a story behind it. Banchero is of American-Italian ancestry. Both parents are former athletes at University of Washington, where purple is a team color.
His parents wanted him to attend Washington, but he chose Duke instead.
"The purple is a tribute to my parents," he said, "and my way of saying 'I'm sorry.'"
The 7-foot Williams attended Norfolk Academy in Norfolk, Va. before transferring to the IMG Academy in Florida.
Ignite: Centered in Walnut Creek, Cal., this is a G-League affiliate that serves as a college alternative for top prospects. Players can earn up to $500,000. Three Ignite athletes were taken in this draft, following three in 2021, including ex-John Marshall High star Isaiah Todd.
Foreign Legion: The National Basketball Association might consider adding the letters "Inter" to its title. The league has become "International."
This year's draft included two players each from Italy, Australia, Spain and Serbia, and one each from New Zealand, France and Brazil.