Community meeting sparks recommendations to curb city gun violence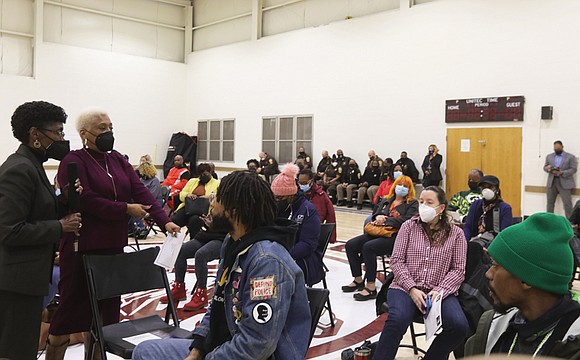 Affordable day care. Better relationships with recreation and parks activities and schools. Summer jobs for teens. Mental health and first aid training.
Those were some of the recommendations offered by about 60 community residents, public officials and representatives of nonprofit agencies that gathered Feb. 24 in a call to action to stem the tide of gun violence in Richmond.
Called Community Action Partnership for Violence Prevention, the meeting was organized by School Board member Cheryl L. Burke and City Council President Cynthia I. Newbille, both of whom represent the 7th District, where 17-year-old Armstrong High School student DaShawn A. Cox was shot and killed shortly before 5 p.m. Feb. 17 outside the Ashley Oaks Apartments on Jennie Scher Road in Fulton.
The meeting, held at the Powhatan Community Center, was slated as the first in a series of conversations to get community input on how best to stem the violence and support the community.
"It is really important to have a meeting like this to be proactive in building more youth programming for gun violence prevention and safety training," RaTwoine "Rosetta" Fields, founder and co-owner of the HolisticAgency, which provides medical, defensive and mental health support.
Mr. Fields said the agency is working to diminish the contagion of gun violence particularly among youths in Richmond.
"We need more youth centers so (young people) will not be in the streets," Holistic Agency co-owner Eniyan Sankara added. "It is easy for young people to acquire a gun in Virginia, an open carry state."
Conversations among the assembled group reached a loud din as ideas were discussed in small groups and their recommendations, based on various age categories, were written on display pages attached to the walls around the room.
Recommendations for the ages 1 to 9 category included operating 24-hour community centers; establishing a send-a-child-to-camp program; requiring uniforms in schools and make schools year round; and teaching youngsters soft, social skills as well as life skills.
For teens and young adults to age 22 and older, recommendations included teaching budgeting skills and setting up employment and second-chance programs.
The information and recommendations collected at the meeting are being compiled for electronic distribution, and will be used for the focus of future meetings, organizers said.