John Marshall Justices poised to win another state basketball crown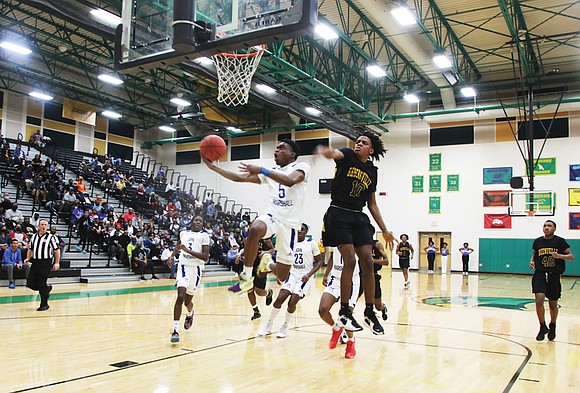 Most high school basketball teams feel fortunate to have one or two stars. Richmond's John Marshall High School features a galaxy.
The always-illuminated North Siders and their talent will be shining on Saturday, March 12, at Virginia Com- monwealth University's Siegel Center when the Justices face Radford High School for the state Class 2 championship at 1 p.m.
John Marshall High, with a 21-4 record, advanced to the final with a 92-53 victory in the semifinal contest Monday night over Greensville High School of Emporia. The game was played at Huguenot High School in Richmond.
The Justices seem to take turns dazzling their loyal fan base and thwarting the opposition. As usual, there were standouts aplenty against the scrappy but outmanned Greensville team.
Lady Justices lose to Luray in state semifinals
John Marshall High School's girls basketball team came up short in its quest for a state Class 2 title.
Coach Virgil Burton's Lady Justices lost to Luray High School 64-56 on Monday in the state semifinals at the Shenandoah Valley school.
Junior Jaedyn Cook had 11 points and MiAngel Harris scored 10 points for John Marshall, which finished 17-7. The team will lose only two seniors from this season's roster.
Luray, 26-2, won the 2021 state title and was state runner-up in 2020.
Steven Stinson, a 6-foot-5 junior who transferred to John Marshall from Trinity Episcopal School, had 20 points and 12 rebounds, and quicksilver guards Reggie Robertson and Damon Thompson added 14 points each.
Robertson, a senior in his fourth season on the John Marshall varsity, and sophomore Thompson force a whirlwind tempo with their relentless full-floor pressure defense and running a fast break that has no brakes.
Always entertaining Dennis Parker Jr., a 6-foot-6 junior with a national reputation among recruiters, also scored 14 points. Among those viewing Monday's game was VCU Coach Mike Rhoades.
Radford, 19-4 with eight straight wins, reached the title game with a 47-44 double-overtime win against James River High School of Buchanan in Salem. The Radford Bobcats, who rely heavily on 3-point shooting, are led by 6-foot senior guard Nathan Wesley.
Coach Ty White's Justices have won eight straight games and 18 of their last 19 matchups. Few have been close.
The Justices have been totally dominant in the postseason. John Marshall breezed to the regional title by defeating Bruton High School of Williamsburg 75-26, Thomas Jefferson High School 78-44 and Greensville High 85-41.
The Justices then trounced East Rockingham High School of Elkton 91-57 in the state quarterfinals and then Greensville High, again, in the semi- finals.
---
For about 100 years, John Marshall competed in the top enrollment level in Virginia, 1A and then AAA. But as the school's student count has dwindled, John Marshall has fallen to the second lowest of six state sports classifications, Class 2. There are now fewer than 500 students in the building on a given day.
---
Greensville is coached by former Virginia Union standout Antwan Walton, who was the Elite Eight MVP of the Panthers' 2005 NCAA Division II championship team. Walton's son, 6-foot-5 junior Xzavion, had 25 points for the Eagles.
---
On Saturday, the Justices will be looking for their third state title since 2014, all at the Siegel Center.
John Marshall won the state 3A title in 2014 over George Wythe High School, with Jeremy Sheppard earning State Player of the Year honors.
In 2018, John Marshall trounced Western Albemarle High School for the Class 3 crown, with Isaiah Todd being name State Player of the Year.
The Justices won the 2A title in 2020 over Gate City High School, with Jason Nelson the State Player of the Year.
The Justices likely would have won another state title in 2021, but Richmond Public Schools opted out of the season because of COVID-19.
John Marshall and Maggie L. Walker, combined at the time as Marshall-Walker High School, won state AAA crowns in 1982 and 1983 with Ronnie Wade, Willie Jennings, Bubba Johnson and John Stevens among the headliners.
Long before school integration, and when the school was located Downtown at 8th and Marshall streets, John Marshall also won state 1A championships in 1920, 1932, 1936, 1937, 1948 and 1954.