Training program for released convicts faces shutdown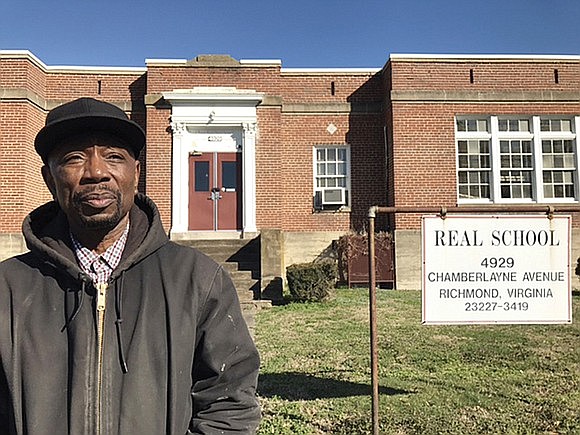 Rodney Brown had just served a six-year sentence in prison in 2018 when he found his way to the nonprofit Adult Alternative Program at 4929 Chamberlayne Ave. in the city's North Side.
The Richmond native said the 90-day re-entry program that contractor Kenneth Williams created proved "life changing" for him.
Describing himself as aimless and jobless when he arrived, Mr. Brown said the program helped him give him focus; taught him life skills; enabled him to gain basic training in HVAC, the acronym for heating, ventilation and air conditioning systems; and linked him to his first full-time job ever.
Four years later, the 36-year-old said he is still working full time, owns a car, pays his rent and is preparing to get married in September.
"Before I got into the program, I could not imagine that happening for me," Mr. Brown said.
That's the kind of success story Mr. Williams envisioned when he started the program for former male and female inmates in Richmond Public Schools' vacant REAL School building at Chamberlayne and Azalea avenues on the border with Henrico County.
A former convict himself, Mr. Williams, 73, said he got a second chance by learning building trades and then starting his own construction business. He said he started the program to give others the same opportunity – a prospect that gained momentum after RPS authorized him to use the building in 2016, about two years after the REAL School moved out.
He said he finally got the first floor of the building in shape with help from a variety of other contractors and construction material suppliers and started up. Since 2017, Mr. Williams said, 109 people have graduated from the program.
When the pandemic struck in early 2020, Mr. Williams was forced to shut down. He also has struggled with health challenges, including a brain aneurysm that required surgery and a long recovery.
Mr. Williams said he has been gearing up to restart the program in April, with 60 people registered and more calling every day.
But instead of beginning new classes, he's now facing losing the space. For the past few weeks, he has had to tell applicants that the program is headed for a shutdown.
The Richmond School Board voted last year to mark the building as surplus and return it to the city. Thursday, March 31, is the day that is supposed to happen. On Thursday, RPS officials are coming to collect the building's keys from him.
Mr. Williams said he is hoping city officials will allow his program to keep going. But that remains uncertain, as does the program's funding.
A Richmond Free Press query to City Hall on March 25 about the program's continued use of the building has yet to garner a response.
The city has been supportive in the past. The Richmond Police Department, then under Police Chief Alfred Durham, became the first to provide a grant. Mayor Stoney and City Council also provided $175,000 in funding for the program over the two-year period between July 1, 2018, and June 30, 2020.
But no further funding has come in from the government, and none is proposed for the 2022-23 fiscal year that will begin July 1, according to the budget proposal now before City Council.
Mr. Williams said he has his fingers crossed that City Council members who know about the program will support his effort to remain in the building, and also will amend the budget to include the $100,000 he would need at a minimum to operate.
His plan for raising money to support the program has not worked out. He thought he could cheaply buy tax-delinquent properties from the city, use them as classrooms for trade trainees as they rehab them under the supervision of licensed contractors, sell the completed homes and use the proceeds from the sale to pay for operations and to create a pool of capital to buy more such properties.
But since he began, Mr. Williams has not been awarded any of the tax-delinquent properties the city has provided to nonprofits, though he said he has applied repeatedly. Government grants and his savings have provided the program's main support.
"This program has been important in offering hope and opportunity," he said. "I just have faith that others will see the value and allow us to continue."