VUU, now 4-0, returns to Lanier Field/Hovey Stadium to battle St. Aug's
Oct. 1 game is Lucille Brown Community Football Bowl Day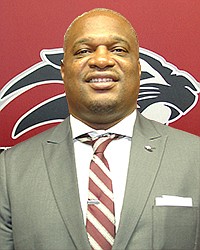 The last time Virginia Union University won a CIAA football championship was in 2001. At least for now, 2022 is looking like '01 again.
But there is work to be done.
Coach Alvin Parker's Panthers improved to 4-0 last week with a come-from-behind, 31- 28 statement win on the road at Fayetteville State.
The victory total includes a head-turning win on the road at then nationally No. 2 ranked Valdosta, Ga., State, and most recently against the CIAA preseason Southern Division favorite Broncos.
"It was a great program road win," said Coach Parker. "Our guys showed a bunch of resilience after being down.
"Lots of different players made plays. We still have a few things to correct but it's nice to correct them after a victory."
VUU returns to Lanier Field/ Hovey Stadium on Saturday, Oct. 1, to face CIAA rival St. Augustine's at 1 p.m. It will be Lucille Brown Community Football Bowl Day.
The Falcons will come to Richmond as the heavy underdog. St. Aug's is 0-4 and coming off a home 36-20 loss in Raleigh to Bowie State.
VUU has the pedal to the medal with no signs of slowing down. The Panthers average 48.8 points per game and 390 yards total offense an outing.
Sophomore tailback Jada Byers leads all of NCAA Di- vision II in rushing with 777 yards so far, and in touchdowns with 11.
The hard-to-tackle New Jersey native had 161 yards and three touchdowns on 31 carries in Fayetteville.
On the occasions in which VUU fails to score TDs, it relies on two of the CIAA's top kickers, place kicker Brady Myers from Orlando, Fla., and punter Marvin Holmes from Varina.
Myers kicked a decisive 44- yard field goal at Fayetteville and is two-for-two on the year and 23 for 23 on extra points.
Holmes has averaged 43 yards on his 12 punts.
Spearheading the defense at Fayetteville were Demontay Rhem and Shamar Graham with 14 tackles each.
The toughest games ahead figure to be at Bowie State on Oct. 15, home against Chowan on Oct. 29 and then against much-improved Virginia State in Ettrick in the Nov. 5 regular season finale.
The last time VUU started 4-0 was in 2007 under Coach Arrington Jones. The Panthers went on to win their first six that season.
Virginia Union has won 11 CIAA football crowns, trailing Morgan State (18), Virginia State and Winston-Salem (12 each) and North Carolina A&T and Shaw (five each). Bowie State has won the last three.
Before 2001, VUU's last CIAA title was in 1986.