Celebrating '200 Years, 200 stories' at Library of Virginia
Ethel Bailey Furman, one of the first Black female architects in Virginia; David Martin, founder of the Martin Agency and creator of the famed tagline "Virginia is for Lovers"; and Chinese immigrant Ow Chuck Sam, who became a naturalized citizen and served in the armed forces during World War II.
All are part of the Library of Virginia's anniversary exhibition, "200 Years, 200 stories," which opened Tuesday, Jan. 24, at the Library. The bicentennial exhibition celebrates 200 Virginians whose narratives are housed in the Library's collections and reflect the stories of Virginia.
Throughout 2023, the Library of Virginia will celebrate its bicentennial with events and programs, a multimedia experience and a panel discus- sion highlighting Virginia's first Black legislators, the launch of mobile programming across the state and more.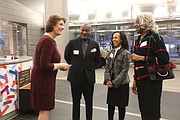 All events are free and open to the public except for the Library of Virginia Literary Awards Celebration, its annual fundraising gala, on Oct. 14, 2023. All anniversary event details are available by visiting www.lva.virginia.gov/200.
"It's exciting to celebrate this milestone as one of the oldest state libraries and archives in the nation," said Librarian of Virginia Sandra Treadway. "We invite the community to join us at the various activities planned to mark our rich history and hope all Virginians will discover ways to be more engaged with us as we enter our third century."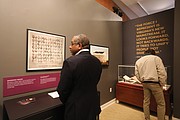 The Library was founded on Jan. 24, 1823, by the General Assembly to organize, care for and manage the state's growing collection of books and official records.
Since then, the collection has grown to 2 million books, newspapers, maps, prints and photographs, as well as 130 million manuscript items, making the Library the most comprehensive resource in the world for the study of Virginia history, culture and government.
The Library is located in Downtown Richmond near Capitol Square at 800 E. Broad St.