'It's not really over. It's ongoing'
D.C., Capitol police officers recount horror, tragedy of Jan. 6, 2021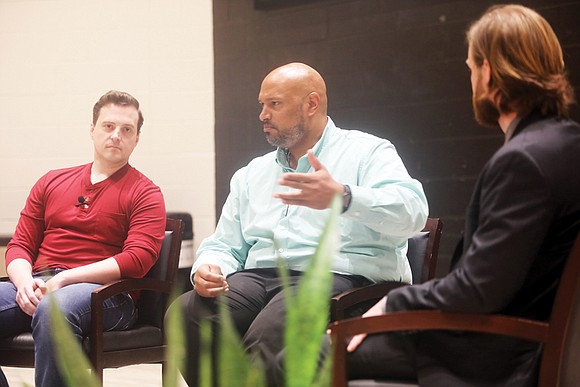 Two years ago, D.C. Metropolitan Police Officer Danny Hodges was nearly crushed to death after being attacked during a riot by election deniers at the U.S. Capitol building.
By the end of the five-hour insurrection sparked by domestic terrorists fuming over former President Donald Trump losing the 2020 election, Mr. Hodges had a concussion, was crushed by the mob, beaten and suffered other physical injuries that day.
U.S. Capitol Police Officer Harry Dunn, also sustained a concussion and injuries as he combatted rioters for extended periods of time. Since that fateful day, in which five people died either shortly before, during or after the riot, Mr. Dunn said he has suffered from post-traumatic stress disorder.
The two men shared their story on Jan. 19 at Virginia Commonwealth University during the session "Memories of January 6th: A Conversation with Two U.S. Capitol Police Officers," a joint event of the political science departments at VCU and Randolph-Macon College.
Both officers have testified in court against people who participated in the Jan. 6 insurrection, and they also provided testimony to the U.S. House Select Committee investigating the attack. Mr. Hodges and Mr. Dunn said Mr. Trump, former U.S. National Security Advisor Michael Flynn and others have not been held accountable for the lies about the election and encouraging the disruption of the legal transfer of power.
After reliving the day for the audience of students, professors and others from the community, VCU's Dr. Alex Keena asked the two men about their healing process since that traumatic day two years ago.
"It's not really over. It's ongoing, Mr. Hodges said. "I have been very fortunate both physi- cally and mentally. Not everyone has been as fortunate as me. There are still officers who are out from that day; like years later they cannot physically do their jobs."
Noting that some of his fellow officers retired for medical reasons, others continue to experience post-traumatic stress syndrome and other mental health challenges.
"You've just got to be there for them and support them as best you can."
Mr. Dunn, a 15-year veteran of the Capitol Police force, also shared his perspective.
"I'm a huge proponent of mental health and I encourage people to go to therapy and seek help in counseling and talking about it because one thing for sure is that these problems won't go away. They just come back disguised as something different and trauma is trauma no matter what, you have to deal with it. Period.
Despite their ongoing pain and trauma, Mr. Dunn and Mr. Hodges said they are proud of their work and that of other officers who fought to secure America.
Mr. Dunn was one of four police officers to testify for the U.S. House Select Committee who investigated the January 6th attack at the United States Capitol. He also received a Congressional Gold Medal for his service and was one of 12 officers awarded the Presidential Citizens Medal including Officer Hodges.
Mr. Dunn has a memoir, "Standing My Ground: A Police Officers Fight for Accountability and Good Trouble." It is scheduled to be released in October.