John Marshall's Latrell Allmond is one to watch
'He can shoot, rebound, run the floor, block shots,' says Coach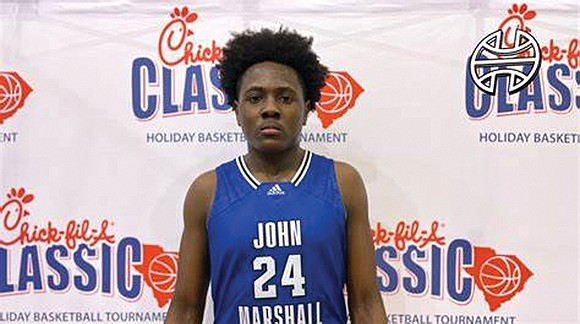 An average high school freshman starts off on the JV team and aspires, eventually, to be a varsity starter.
Latrell Allmond isn't your average freshman.
Since arriving from North Carolina, the 6-foot-8 John Marshall High ninth grader hit the hardcourt running for the 16-0 and nationally No. 1 ranked (by MaxPreps) Justices.
JM Coach Ty White refers to his prodigy as a "skill forward."
White goes on to say, "Latrell is extremely talented and versatile. He can shoot, rebound, run the floor, block shots."
The JM newcomer was averaging 12 points, 10 rebounds and four blocked shots heading into this week's action. He also leads the Justices with 59 percent shooting.
Allmond is no secret. College offers are pouring in. The University of Virginia is the latest to offer Allmond (JM Class of '26) a full ride far in advance of his high school diploma.
U.Va. Associate Head Coach Jason Williford is a former All- Metro star at JM.
Williford was in attendance for JM's recent home game vs. Grayson High of Loganville, Ga.
"Coach Williford came to see another kid (for Grayson) but Latrell out-played him," said White.
Other offers have come from Tennessee, North Carolina State, Texas A&M, Mississippi State, Rutgers, Old Miss, Georgetown and Georgia.
Originally from Southern Pines, N.C., Allmond played last season as an eighth grader on the O'Neal School varsity. He also played for the Team Loaded AAU travel outfit that White serves as director for.
Skeptics might ask, why No. 1 ranking?
JM has played a grueling schedule against mostly high-profile programs out of the 804.
Victories so far have come against Holly Springs, N.C., (13-4), DeMatha, Md. (12-6), Landstown, Va. (11-4), Virginia Academy (9-9), Millbrook, N.C., (12-6), Greensboro, N.C., Day (22-3), Columbus, Fla., (16-3), Wheeler, Ga., (10-6), Jackson-Reed, D.C., (19-4) and Grayson, Ga. (12-4).
The toughest remaining game might be Jan. 28 at home vs. invading Lake Taylor of Norfolk.
From then on, it appears there are nothing but clear skies ahead as the Justices seek a second straight Class 2 State title.
Over the past two seasons, JM has won 25 straight games and may be headed toward the first undefeated season in Richmond City annals.
As anyone can see, there's nothing average about these Justices.
Editor's note: Despite continued winning, the Justices are now ranked No. 2 nationally by MaxPreps.com ... No. 1 is Paul VI of Northern Virginia