Howard U. picks African diaspora scholar as next president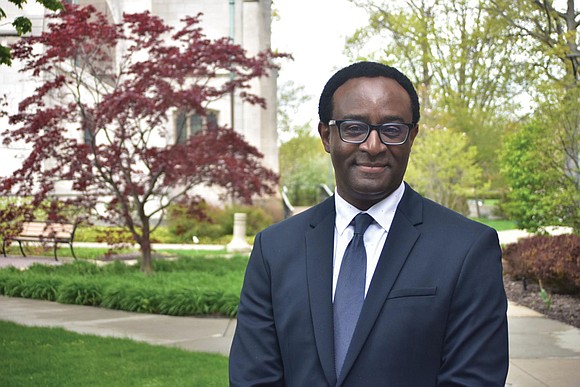 WASHINGTON - Howard University is turning to an experienced scholar of the African diaspora to serve as its new university president.
Ben Vinson III, currently the provost at Case Western Reserve University in Cleveland, will officially take over as president from the retiring Wayne Frederick on Sept. 1. Dr. Vinson is a historian specializing in studies of the African diaspora, particularly in Latin America.
His appointment comes at a crucial time for the historically Black university; the venerable institution is riding a wave of national prominence, with illustrious alumni, major funding boosts and high-profile staff additions.
Dr. Vinson called the Howard position, "the honor of a lifetime," in a statement put out by the university.
"Howard's incredible legacy, its remarkable trajectory, combined with the fine talent of its faculty and staff, situate Howard at the uppermost echelons of higher education," he said.
Dr. Vinson, 52, grew up partially in the D.C. area and graduated fromhighschoolinneighboringAlexandria.Hespenthischildhood on military bases in Italy, where his father was a master sergeant in the U.S. Air Force. He has previously served as the founding director of the Center for Africana Studies at Johns Hopkins University, where he also taught history, and as dean of George Washington University's liberal arts and sciences college.
"I look forward to returning to the DMV (the greater D.C. area), which I consider home, and working with the broader campus community to fortify Howard and help build upon its incredible tradition of delivering excellence, truth, and service to greater humanity," he said.
Long one of the jewels of the Historically Black College and Universities network, Howard is enjoying a season of plenty. High-profile alumni like Vice President Kamala Harris and the
late "Black Panther" actor Chadwick Boseman have brought fresh prominence and rising enrollment numbers. Major benefactors such as NBA star Steph Curry and MacKenzie Scott, the ex- wife of Amazon founder and Washington Post ownerJeff Bezos, have come to Howard with significant donations.
The university also has leveraged its prominence to secure a string of headline-grabbing faculty members. Two of America's most prominent writers on race relations, Nikole Hannah-Jones and Ta-Nehisi Coates, joined the university in 2021, and famed actress and Tony Award winner Phylicia Rashad now heads the College of Fine Arts.
Even so, students have been impatient for change. In 2021, they held sit-ins and slept in tents to protest housing shortages and poor living conditions in the dorms, a concern common to many historically Black universities with aging buildings. After a standoff lasting more than a month, students reached an agreement with Howard and ended the protest.
Dr. Vinson's academic field makes a sharp contrast with that of Dr. Frederick, the outgoing president, who is a Howard-trained surgeon. The university search committee and trustees turned next to a historian, with his focus cast outside of the United States.
Dr. Vinson is a scholar of the African diaspora with an eye especially on colonial Latin America. He is the author of several
books, including "Before Mestizaje: The Frontiers of Race and Caste in Colonial Mexico."
Dr. Vinson earned a bachelor's degree from Dartmouth College with a double major in history and classical studies, summa cum laude, and a doctorate in Latin American history, with distinction, from Columbia University. He has been awarded fellowships from the Fulbright Commission; National Humanities Center; Social Science Research Council; University of North Carolina at Chapel Hill; and the Ford, Rockefeller, and Mellon foundations.
The chairman of the Howard board of trustees, Laurence C. Morse, said in a news release that Dr. Vinson had "demonstrated his commitment to elevating the diversity of experiences of people of the African diaspora — a commitment that aligns well with Howard University's mission and vision."
In a statement, the president of Case Western Reserve, Eric W. Kaler, credited Dr. Vinson with leading development of that university's ambitious strategic plan and new general education requirements, and with increasing diversity in its faculty and graduate student recruitment. President Kaler also said that Dr. Vinson was a strong supporter of the humanities at a time when some universities were cutting back on them.
"He is an exceptionally warm and empathetic person and will be a great leader for Howard," he said.