Bailey's VSU performance sparkles with speed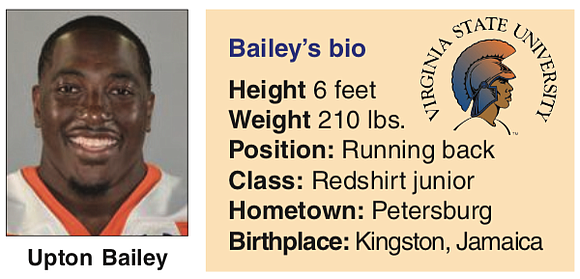 Scoring touchdowns is "no problem, mon" for Upton Bailey.
Born in Kingston, Jamaica, the Virginia State University junior running back has a new jersey number (No. 1) and fresh image (starting ball carrier) for the 2023 Trojans.
"Upton's speed is something else," VSU Coach Henry Frazier III said. "He's the fastest on our team ... the kind of back that can score from anywhere on the field."
Norfolk State will attest to that.
On his second carry from scrimmage Sept. 2 at NSU, Bailey took a handoff from Romelo Williams and didn't stop striding until he was celebrating in the end zone.
The 80-yard TD gallop ranks with VSU's longest carries in recent seasons.
"I'd fumbled on my first carry (a 24-yard gain that resulted in a lost possession)," Bailey said. "I went back to the bench, and everyone told me to relax ... to take it to the house the next time I touched the ball."
Known as "Juice," he did what his teammates asked while offering a tribute to his offensive linemen.
"I didn't have to break any tackles ... just green grass in front of me," he said.
Not many defensive backs can run the sculpted 6-foot, 210-pound Jamaican down from behind.
"When I see green, it's over ... time to kiss the baby," he said with laugh.
VSU went on to prevail, 33-24, in a rare contest where a visiting Division II (CIAA Trojans) upsets a home standing FCS (MEAC/NSU).
Bailey finished with 211 yards on 19 carries, good for 10.9 yards per tote.
VSU faces St. Augustine's in Raleigh
Upward bound Virginia State University is 2-0 and heavily favored to make it 3-0 this Saturday in Raleigh.
Next up for Coach Henry Frazier's Trojans is a 6 p.m. kickoff against CIAA rival St. Augustine's.
After upsetting Norfolk State in its opener, VSU bagged its second victory Sept. 9, 21- 17, over visiting Tusculum, Tenn., at Rogers Stadium.
St. Augustine's is 0-2 with losses to Lenoir- Rhyne (45-7) and this past week to Elizabeth City, 13-0.
A year ago in Ettrick, VSU pounded the Falcons, 42-7.
In taking down Tusculum, Kimo Clarke, a transfer from Jackson State, ran 20 times for 54 yards and Upton Bailey 13 times for 37 yards, with a touchdown.
Bailey was used sparingly due to a slight injury he referred to as a "tweak." Bailey also had a 35-yard pass reception.
Romelo Williams was seven for 20 in the air for 118 yards.
On defense, Tyrone Fisher from nearby Park View High School in South Hill, had six tackles, including two losses, and All-CIAA defensive back Willie Drew had four pass breakups to go with eight tackles.
VSU improved from 3-6 in 2021 to 6-4 last season in Coach Frazier's first season. The win total looks to go even higher this campaign.
Now about that Jamaican background.
Bailey, the son of Novelette and Upton Sr., moved with his siblings from Kingston to Petersburg when he was 9 years old.
It was a bit of a transition, starting with the language. While English is the official Jamaican language, its citizens speak the national language of Patois — a mix of English, French, Spanish and other West African dialects.
Then there was the switch from Jamaican football to the American style known as soccer.
"I played soccer in Jamaica but never American football until I got here," he said. "When I first saw an American football, I thought all you did was kick it."'
At Petersburg High School, Bailey continued to play soccer while adding basketball and Ameri- can football, where he earned All-Region honors as a sophomore and junior. His senior season was wiped out by the COVID-19 pandemic.
Bailey began his VSU career wearing No. 26 and playing behind Darius Hagans, who was second in CIAA rushing last year only behind Virginia Union's Jada Byers.
As a backup sophomore, he carried 91 times for 661 yards (6.8 per carry) and seven TDs.
He made his mark as a freshman, too,
As a true freshman, backing up Hagans, he ran 12 times for 165 yards (13.8 per). The highlight was a 74-yard TD run against Bowie and then Bulldogs' assistant coach (now VSU Coach) Frazier.
Now Coach Frazier and Bailey are focused on increasing last year's win total of six, pursuing a CIAA title and a possible return to the NCAA playoffs.
For Trojans foes, stopping them might be a "big problem, mon."