Personality: Alycia Wright
Spotlight on Cultural Roots Homeschool Cooperative's director, founder
9/14/2023, 6 p.m.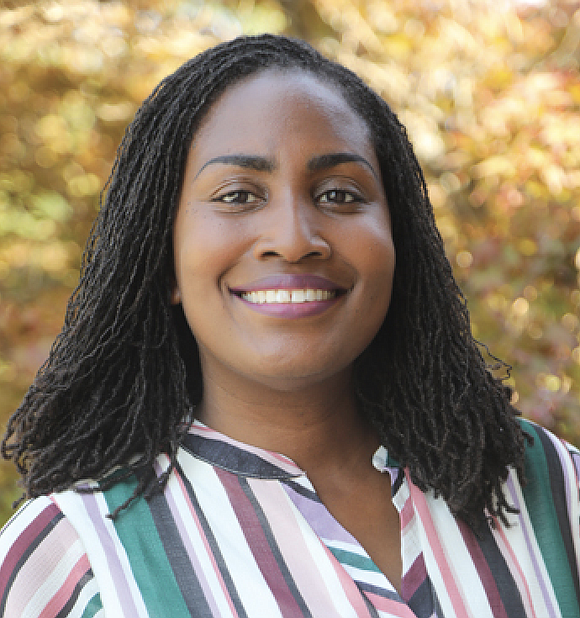 Alycia and Steven Wright began homeschooling their children about a decade ago. While their two eldest daughters attended Richmond Montessori School — Alexandra until the fourth grade and Jordan for kindergarten — their younger daughters, Kennedy and Stevie, have always been homeschooled. Mrs. Wright says because there is no separation between learning and education, the family is able to be "life learners with no limits."
"We are eclectic homeschoolers, which means we don't primarily use a traditional boxed curriculum," she explains. "We learn every day and outside of traditional school hours."
Mrs. Wright says she saw a need for a homeschool community that celebrated the diversity of BIPOC children and families. She founded Cultural Roots Homeschool Cooperative in 2016 to meet that need by centering the cultural attributes, traditions and histories of Black and Brown communities.
The number of families homeschooling their children has increased significantly in Richmond and throughout the nation. The onset of COVID-19 increased the number of students who are homeschooled.
The Virginia Department of Education reported nearly 57,000 homeschooled students and religious exemptions for the 2022-2023 school year. Although these numbers dipped from the previous year, they still represent a 30% increase over the 2018-2019 school year.
With the rise in homeschooling, Mrs. Wright says there are important things to consider when a child is homeschooled, including the commitment it requires and the challenges involved.
"Our biggest challenge lately has been balancing all of my children's interest/passion-based learning with the time needed for core foundational skills and daily practice," she said.
"Gaining access to programs and partners for homeschooled youths is a challenge at times. A lot of programs are geared toward public school- children and so dispelling myths about homeschoolers is a constant effort.
"One stereotype is that homeschoolers are at a kitchen table for six hours a day and lack socialization. The reality is that homeschoolers spend a lot of time out and in the community engaged in activities with other homeschoolers," she added.
The Cultural Roots Homeschool Cooperative has about 125 homeschoolers participate in the educational classes and experiences that the families work together to select and fund each year. Mrs. Wright says many of the classes are developed according to students' interests and passions such as African drumming, robotics, nature studies and personal finance.
At the high school level, there is a full curriculum of academics and exploratory classes.
Mrs. Wright said the co-op will continue to provide friendship and support to homeschooling families. She also hopes to expand some of the co-op's offerings into surrounding communities and provide more formal mentoring to new homeschool parents.
"I am excited by the number of families considering and beginning on this home education journey as well as so many who are creating new spaces for themselves in the community," Mrs. Wright said. "I am energized by watching young people make connections to what they are learning through experience and access."
Meet an advocate for homeschooling and this week's Personality, Alycia Wright. Occupation: Founder and director, Cultural Roots Homeschool Cooperative.
Place of birth: Richmond.
Where I live now: Henrico County.
Education: Bachelor's in psychology, master's in education, special education and disability policy.
Family: Husband, Steven, and four daughters, Alexandra, 19, Jordan, 15, Kennedy, 13, and Stevie, 9.
Cultural Roots Homeschool Co-op is: A culturally centered and liberated educational space for BIPOC homeschooling families.
Why there is a need for the Co-op: I saw the need for a homeschool community that centered and celebrated the diversity of BIPOC people, with an emphasis on those within the African diaspora.
Our mission: To provide a culturally centered and liberated educational space for families. We intentionally center the cultural attributes, traditions and histories of Black and Brown communities.
Most important thing to consider when a child is homeschooled: Homeschooling takes a lot of commitment. Consider the needs of the child and what your family vision for homeschooling is. What is it that you want to be different from what they are receiving cur- rently? Think about your relationship with the child and how you can best support them emotionally, academically and socially toward your vision.
How Cultural Roots Homeschool Co-op works: Families collectively choose classes for the upcoming year, we bring in instructors and collectively fund the instructors. We are a nonprofit organization and one goal is to make access to high quality experiences and classes available to BIPOC homeschooling families, no matter the size of the family.
Our home base is: Pine Camp Cultural Arts Center and Ginter Park Presbyterian Church.
No. 1 goal or project of Cultural Roots Homeschool Co-op: To continue building out a high quality high school program for homeschooling teens that includes community, college and corporate mentors.
Strategy for achieving goal: We are working to establish relationships within the community, at local universities, and with some of Richmond's largest employers. It is our hope to find places where our missions and visions align and to build partnerships to support them.
No. 1 challenge facing Cultural Roots Homeschool Co-op: Space. We are in need of a facility that looks more like a school, with lots of room. The need is overwhelming to support the large increase of BIPOC homeschooling families looking for places where they can go to work with their child 1:1, take group classes, have access to mentors and socialize — all in a setting that feels safe and affirming.
How Cultural Roots Homeschool Co-op is funded: The co-op is self-funded by the parents and community giving.
A memorable moment that Cultural Roots Homeschool Co-op has experienced: The youth worked with a film teacher and friend from Virginia Commonwealth University to make a documentary about Mr. Richard Stewart, lovingly known as "Mayor" of Pocahontas Island and the owner of the Black History Museum in Petersburg. We raised over $3,000 and surprised him with a giant check. It was a wonderful moment and completely youth led. We did the same at Pine Camp (created a short 90-second interview) for Dr. Beatrice Motley Cole, who stayed at the segregated Pine Camp TB Hospital many years ago as a teen. The youth conducted research about her, made a film, and invited her to see it.
How I see Cultural Roots Homeschool Co-op transforming in the next few years: We hope to offer formal mentoring to new homeschool parents, consider making our high school program into an official "micro-school" and expand to support families in surrounding counties and create other Cultural Roots communities for BIPOC families.
Ways to become involved as a homeschooler: Join our Friends of the Co-op Group. We have a website culturalrootscoop.com and email culturalrootshomeschool2@gmail.com
How I start the day: Positive and with the affirmation that my steps have already been ordered and ordained.
Three words that best describe me: Innovative, easy-going, curious.
If I had 10 extra minutes in the day, I would: Sit in nature.
If I hosted a dream dinner party, what one special guest would I invite: My grandmother and great-grandmother. I have a lot of questions about life in general and family history and stories.
Best late-night snack: Bread pudding.
The music I listen to most is: '90s rap and R&B.
A quote that inspires me: "Nothing great was ever achieved without enthusiasm."— Ralph Waldo Emerson
At the top of my "to-do" list: Finish preparing for the first day of classes!
The best thing my parents ever taught me: Try to make the best out of every situation and find the lessons to be learned.
Book that influenced me the most: "Parable of the Sower" by Octavia Butler. It's such a story of resilience and hope for a better future and humanity even when the world around you is literally burning.
What I'm reading now: "Bush Craft 101: A Field Guide to the Art of Wilderness Survival" by Dave Canterbury. It has a lot of useful information and sole potential projects for me to try this fall.
Next goal: Plan my vacation.