Reid's reach is real in VUU win over Shaw
Panthers beat Bears 26-13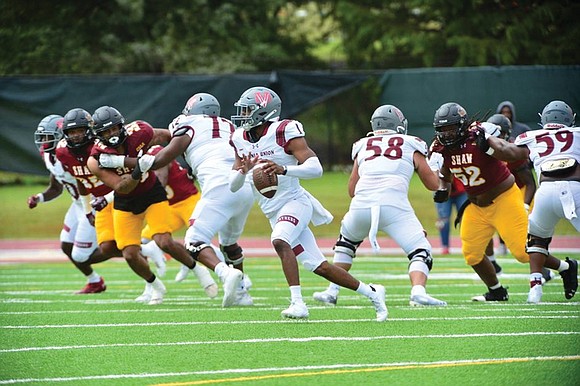 Virginia Union University began this sea- son with a question mark at quarterback.
Christian Reid has turned any questions into resounding answers.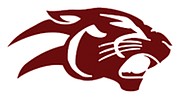 "I'm ecstatic," said VUU Coach Alvin Parker of his left-handed graduate student from Newman, Ga.
"He's managed the offense well and hit the open receivers."
In just his second career start, Reid (wearing No.1) was 21 for 32 for 232yards in a 26-13 win over Shaw on Sept. 9.
The week before Reid led VUU to a rousing win over Morehouse in Canton, Ohio. After two games Reid is 32 for 47 for 385 yards and two touchdowns.
Reid being a southpaw makes no difference in the VUU attack, Coach Parker said.
"We're not just a left-handed team," he said. "We're using the whole playbook." Up next for the 2-0 Panthers is a 6 p.m. kickoff against Livingstone Sept. 16 in Salis- bury, N.C. Livingstone is 0-2 after losses to Bluefield State (41-7) and this past week to Catawba (55-15).
VUU trounced Livingstone, 42-6, last season at Hovey Field.
Reid transferred to VUU from NCAA Division I/FCS Charleston Southern and played last season behind Jahkari Grant.
His favorite target against Shaw was Said Sidibe, who made six receptions for 91 yards and a TD.
Jada Byers, VUU's junior All-American running back, had 41 yards on 14 carries with a touchdown, but sat out the second half due to a coach's decision. Coach Parker would not elaborate on a possible minor injury.
Answering the call as Byers' backup was Curtis Allen, a bruising 6-foot-2, 215-pound sophomore from Prince George High. Allen scored nine touchdowns last season on only 28 carries.
"Curtis is not just a short-yardage runner; he's a complete back; we've got so many weapons," Coach Parker said. "It's nice to see a lot of guys making plays."
Thomas Jefferson High alumnus Shamari Grant, making a case for CIAA Defensive Player of the Year, had eight tackles to lead a dominating defense.