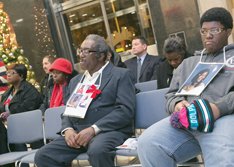 John Burnley, left, lost his daughter, Juanita Burnley, to homicide in 2007. Mr. Burnley attended the memorial with his grandson, Quinton Washington, right, Ms. Burnley's son.
Stories this photo appears in:

Those who lost someone to violence had a chance to publicly remember their loved ones last week at City Hall.