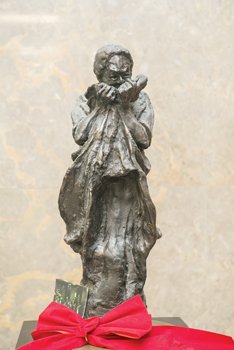 Donald Earley sculpted the "River of Tears" memorial statue in 1996 on behalf of the Coalition Against Urban Violence led by Linda Jordan, who lost her son to violence six years earlier. The statue, a permanent memorial to victims of violence, is installed at City Hall in Downtown and is a centerpiece of the annual remembrance vigil the coalition holds for families of victims. Mr. Earley, an artist and assistant professor at Virginia Commonwealth University's Qatar campus, lost a nephew, Noel, to violence in 1999 in Richmond.
Stories this photo appears in:

Those who lost someone to violence had a chance to publicly remember their loved ones last week at City Hall.