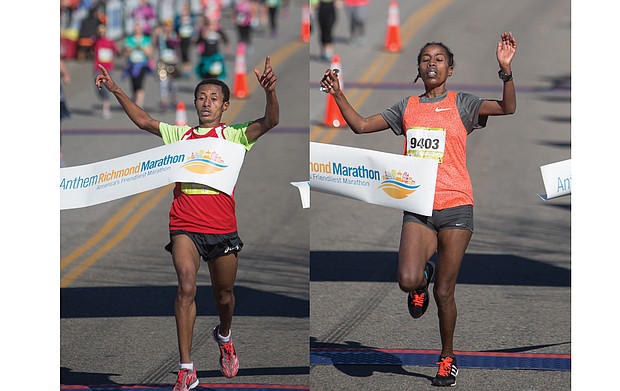 Dadi Beyene, 28, of Ethiopia clinched the men's first-place finish, running 26.2 miles in 2 hours,19 minutes and 36 seconds. // Bizuwork Getahun, 27, of Ethiopia snaps through the finish line to become the women's winner of the 2016 Richmond Marathon. Her time, 2 hours, 37 minutes and 51 seconds, was the fastest women's winning time since 2002.
Stories this photo appears in:
The 39th edition of the Richmond Marathon, like many of the races before it, was dominated by runners from East Africa. More than 17,000 mostly local and state runners and enthusiasts lined up Saturday in Downtown for the three races — the 26.2-mile marathon, the 13.1-mile half-marathon and an 8K race.