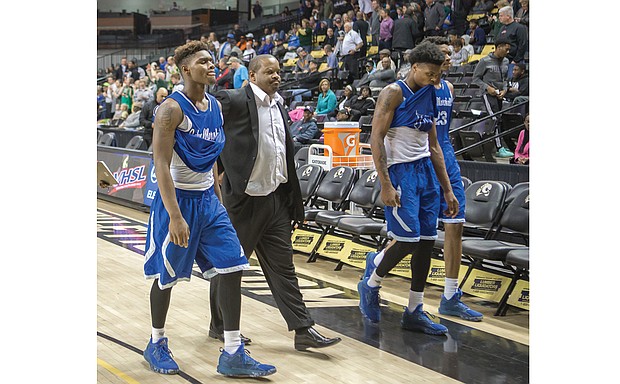 John Marshall High Coach Ty White, above, walks to the locker room with his dejected ballplayers after the Justices' 72-59 loss March 2 to Roanoke's Northside High School during a quarterfinal game at the state 3A tournament at the Siegel Center. At right, George Wythe High's Antonio Bridy snags the ball during the Bulldogs' victorious quarterfinal match against Heritage High School of Lynchburg on March 2. The Bulldogs fell to I.C. Norcom High School of Portsmouth during the semifinals on March 3.
Stories this photo appears in:

Both George Wythe and John Marshall High schools are looking forward to continued basketball excellence next season — and the next, and the next. Two freshmen who made their mark this winter figure to provide the Bulldogs and Justices with long-term success.