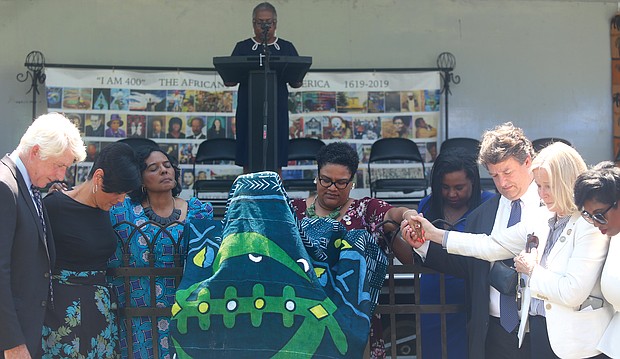 Attorney General Mark Herring joins members of the Virginia Legislative Black Caucus and other Democratic officials in prayer at the site of Lumpkin's Jail in Richmond's Shockoe Bottom during their alternative commemoration boycotting President Trump's appearance in Jamestown.
Stories this photo appears in:

As Trump speaks at Jamestown commemoration for 400th anniversary of representative government, Va. Legislative Black Caucus boycotts with commemoration of the enslaved
Members of the Virginia Legislative Black Caucus gathered Tuesday morning at the site of the former Lumpkin's Jail in Shockoe Bottom, where enslaved people were bought and sold, to commemorate the 400th anniversary of Africans arriving in Virginia in 1619.