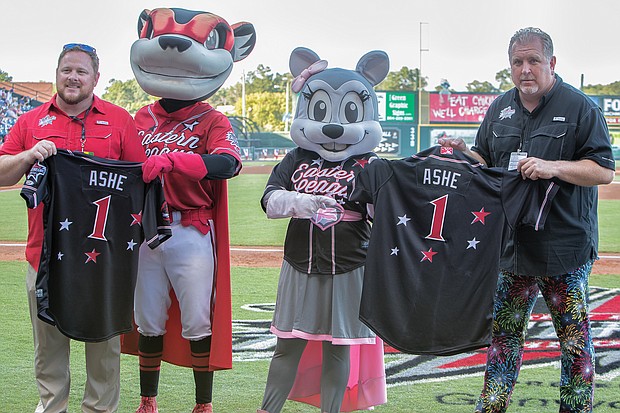 The late Richmond native and tennis great Arthur Ashe Jr. is remembered and honored with jerseys bearing his name during the All-Star Game at the baseball stadium located on Richmond's Arthur Ashe Boulevard. Showing the jerseys to the crowd are, from left, Ben Rothrock, the Squirrels' general manager; team mascots Nutzy and Nutasha; and Todd "Parney" Parnell, the Squirrels' vice president and chief operating officer.
Stories this photo appears in:

With the theme "The Next Big Thing," the Eastern League All-Star Game lived up to the hype — and then some. Everything seemed big, bigger, biggest. Even the event's star promoter, Todd "Parney" Parnell, "grew" for the special occasion.