Police, prosecutors rely on community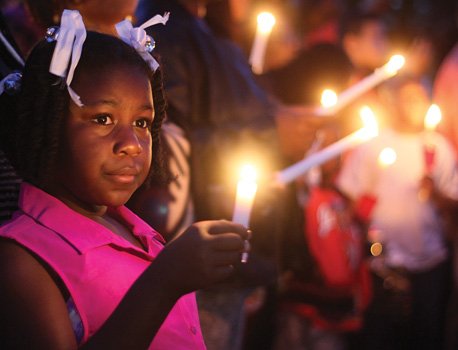 Fifteen-year-old Zyemontae Redd lay dead inside a bullet-riddled apartment in Richmond's Mosby Court.
Police, responding to a call, discovered his body. They also found two others who had been wounded by gunfire, including one who was Zyemontae's 16-year-old cousin.
A large group of people gathered to watch the horrific scene, now filled with police officers, homicide investigators and emergency personnel.
"As the two injured men were being loaded into ambulances, people on the street were running up to them saying, 'Don't tell them anything. Don't snitch. Don't snitch,' " Richmond Police Lt. James Laino recalled.
He shook his head.
"It's very frustrating."
Lt. Laino supervises 23 officers in the Richmond Police Department's homicide unit. They are part of an intensive and collaborative effort by prosecutors and other departments to curb violence in the city.
During the last six years, Richmond has experienced its deepest drop in homicides since 1967, with roughly 38 deaths each year on average, according to police department statistics.
Lt. Laino attributed the decline to more intensive community policing efforts and stiffer sentences for violent offenders.
And while community members pitch in to help police solve many homicides, that's not always the case, Lt. Laino said. Sometimes, even family members refuse to help — and sometimes block — the efforts of Richmond Police to solve these crimes.
He offered the alarming initial response in the Coalter Street triple shooting as an example of community blocking.
Only later did others come forward, he said, which helped lead detectives to a 16-year-old suspect who has been charged in the case.
His frustrations were shared by Richmond Commonwealth's Attorney Michael N. Herring and veteran prosecutor Learned Barry, a deputy commonwealth's attorney, in a Free Press interview.
"In one breath, some people say, 'Go find the person who did it.' But in the other breath, they say, 'But we don't want to help you do it,' " said Mr. Herring, whose office prosecutes the homicide cases. "Sometimes it's relatives and friends of the victim who won't talk.
"There are a small, but unacceptable number of homicide cases we have to solve despite the community," he added.
Mr. Herring said he stopped attending most vigils for homicide victims because too many of the people crying out the loudest for justice at the solemn occasions "don't talk to the police or us."
"But they probably have a whole lot to say" that could lead to the killer's capture, he said.
Mr. Barry, who has successfully worked hundreds of homicide cases in his 36 years as a prosecutor, lashed out at those who refuse to help in homicide investigations.
"It's very frustrating," he said. "Everybody wants us to catch the bad guy, but nobody wants to put any skin in the game," he said.
Mr. Herring said he's aware some people don't help police or prosecutors because of a lack of trust or fear of retaliation from criminal elements if they provide information.
Most of the killings in Richmond are black-on-black crime, he said, and when people in predominately black communities won't help law enforcement bring killers to justice, "it tells me these people really don't care about the African-American community."