Police chief: We can't do it alone
1/24/2017, 6:31 p.m.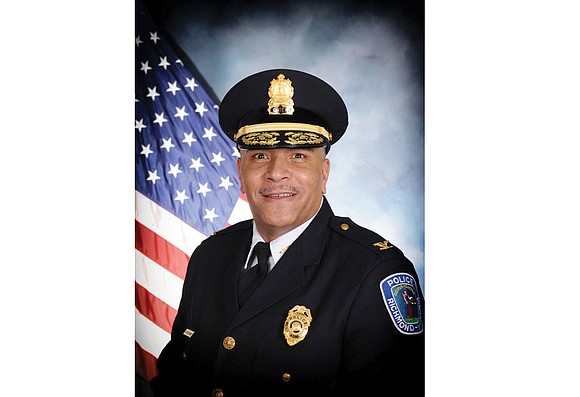 By Holly Rodriguez
Crime is on the rise in Richmond, according to 2016 figures. And city Police Chief Alfred Durham reiterated his call for more citizen involvement to reverse that trend.
"We are doing everything we can as your police department, but we can't do it alone," Chief Durham said during a year-end presentation last week at police headquarters in Downtown.
He was joined at the Jan. 12 news conference by Mayor Levar M. Stoney and Richmond Commonwealth's Attorney Michael N. Herring, who also emphasized the need for people to help make the city a safer place by assisting police with information.
Officials and residents have expressed concern about the dramatic increase in crime during the past year, particularly in the number of homicides. The rise comes after more than a decade of decline in the number of murders in the city.
With 61 homicides in 2016, Richmond's murder rate increased by 49 percent over 2015, when there were 41 homicides. Statistics also show that automobile theft had the next largest increase over 2015, up 35 percent. Additionally, the number of rapes were up 33 percent last year, aggravated assault increased by 17 percent and robbery was up 13 percent.
Burglary and larceny were the only two categories that showed a decline compared with 2015, down 5 percent and 1 percent, respectively.
Chief Durham said the department's clearance rate in solving homicides is 78 percent, which surpasses the national average.
Chief Durham also said 808 firearms were seized by the department last year, including 225 weapons taken from fugitives.
He pointed out that statistics show a correlation between illegal gun possession and violent crimes. The presentation showed the greatest number of firearms were seized in and around Gilpin Court and Whitcomb Court public housing communities, areas with high incidents of violent crime as well.
"The only things that gives those criminals, those bandits power is that firearm. Let's take them away and you won't have that problem, Chief Durham said.
Illegal guns and violent crimes were not the only disturbing trends pointed out during the news conference. Officials reported that heroin overdose has been on an upward trend for the past three years, and jumped dramatically in 2016, with 398 heroin overdoses reported and 45 of them resulting in death.
By comparison, 127 heroin overdoses were reported in 2015, with 21 of them resulting in death.
Chief Durham said proactive efforts are underway to build stronger relationships between the police department and Richmond residents.
He mentioned several new initiatives planned for 2017, including dedicating police officers to patrol the city's public housing communities and returning to smaller beats within the sectors of the city's four police precincts.
The new patrols will be launched possibly by August after new police recruits graduate from the academy and fill the department's vacancies.
He also talked about continuing town halls and "Coffee with a Cop" events for community members to discuss their concerns.
He also said the department is looking to partner with the RVA Recovery Project, a privately funded effort offering recovery services to people who overdose. Under the program, police officers responding to overdose incidents ask victims if they want help with placement in a recovery program. If so, volunteers help with placement.
Mr. Herring said the focus must be on solutions and moving forward.
"We have to be careful about regressing into a blame game," he said.
He said his office will get tougher on prosecuting violent crime and illegal gun possession.
Mayor Stoney said having the best police department and prosecutors is not enough to stop the problems plaguing some communities. He urged residents to get involved.
"We need the best of each and every one of our neighbors to step up what they're doing as well," he said.
In March, the department launched Gun 250, a program that offers $250 to people who provide tips that help officers locate and confiscate illegally owned guns.
The program's tip line received 86 tips last year, leading to 15 illegally held firearms being seized and 10 felony arrests, officials said.
To offer an anonymous tip, call (804) 780-1000, go to www.7801000.com or text tip to 274637, keyword GUN250.