Personality: Sonya Clark
Spotlight on award-winning artist and professor
11/7/2014, 6 a.m.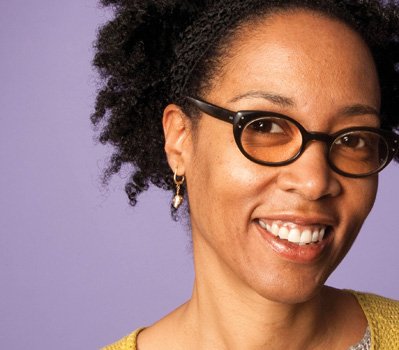 Sonya Clark is a master in the use of beads, combs, thread, textiles and hair.
She regularly is showered with critical praise while winning recognition as a top contemporary artist.

Eat your heart out, New York. This extraordinary creator lives and works right here in Richmond.
This year, Ms. Clark has added a trio of awards that have put her in the spotlight and elevated Richmond's status as an art center.
"Shock, awe and gratitude" is her reaction to her latest success.
Ms. Clark is the co-winner of the 2014 ArtPrize, an international juried competition based in Grand Rapids, Mich.
She won for "The Hair Craft Project," a series of artistic designs crafted in hair in which she worked with hairdressers, whom she calls "my heroes" and "central to my work as an artist and educator" for their ability "to map a head with a comb and manipulate the fiber we grow." The award came with a $200,000 grand prize that she shared with the other recipient.
Ms. Clark's ArtPrize award came just a few weeks after she was named the first female winner of another prestigious award, Society 1858's Prize for Contemporary Southern Art. The Charleston, S.C., group selected her from 260 competitors for the $10,000 grand prize as the artist whose work "contributes to a new understanding of art in the South."
And later this month, Richmond Magazine will present her with the Theresa Pollak Prize for Excellence in the Arts — another tribute to her talent and unique perspective.
Her work is beautiful and eclectic, ranging from meticulously crafted beaded headdresses to an 11-foot-tall portrait of Madam C.J. Walker, who was a pioneer in hair care products, made out of 3,000 black combs. Another of her works, "Afro Abe," is a portrait of Abraham Lincoln with an embroidered afro on a $5 bill.
A bubbly, energetic woman, Ms. Clark appears to have art in her blood.
When she was young, a teacher told her parents that their daughter was "a bit strange. She may be an artist."
Now 47, Ms. Clark credits her grandmother with teaching her skills that have enabled her to transform the materials she uses into attention-grabbing pieces.
"My grandmother was a tailor," Ms. Clark says. "She was wonderfully strong — a little woman with a soprano voice and a shock of white hair. As long as I would sit and stitch with her, she would tell me stories about her life growing up in Jamaica."
Her interest in hair began with her own personal experience. "As a black woman growing up in the 1970s, doing your hair was just something you did."
She says beads, hair and textiles became her creative media as a result of the art teachers she studied with at Amherst College, the School of the Art Institute of Chicago and the Cranbrook Academy of Art in Michigan.
Ms. Clark is well known for her reflections on the materials she uses.
Her insight into beads is a prime example: "Beads are all about the holes. Without them, beads cannot be strung or stitched together," she writes. "The holes are like the orifices we use to communicate. Beads are strung in the same way that, from mouth to ear, sound waves connect us. Beads have been with us for 75,000 years; they remind us of our ancestors and genetic pool. I measure time, transfix gestures, celebrate cultural memory and explore metaphors through the medium of beads."