Hammond moving quickly to shore up VSU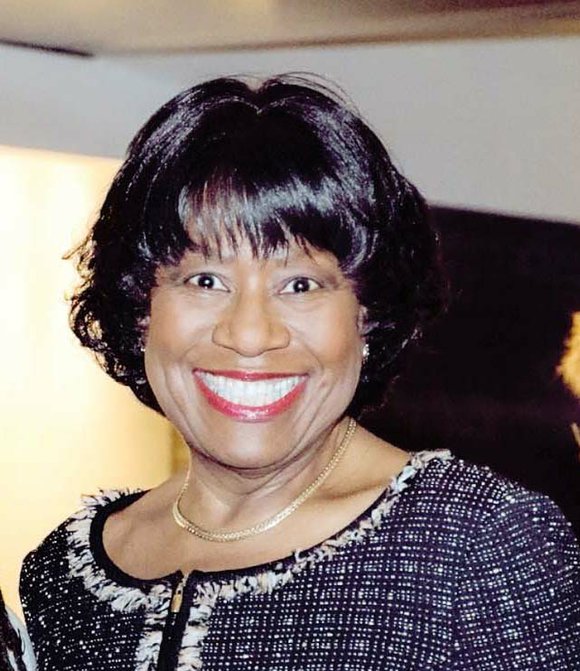 Dr. Pamela V. Hammond radiates energy and optimism in her new role as interim president of Virginia State University.
"Every day there is something new to celebrate" she tells anyone who will listen.
But just three weeks into her new job, VSU's first female chief executive appears to be facing more challenges than celebrations — including an increased erosion in enrollment at the historically black public university that dates to 1882.
Already she has issued a freeze on hiring and spending. And she is weighing staff furloughs and other steps to avoid layoffs. She also is reviewing all academic programs to deter- mine if there are areas that need to be eliminated.
"If you're in a hole, you've got to stop digging," Dr. Hammond told reporters. "If you don't have any money, you've got to stop spending." Her main goals: "To achieve financial solvency, stabilize the enrollment and restore the (university) brand," she stated. Hired away from Hampton University to take over from former President Keith T. Miller, the 62-year-old veteran of academe took over Jan.1 at the university that is facing more financial stress than she could have anticipated.
According to the latest figures, VSU expects to have about 4,200 students on campus when final enrollment numbers are in this week— a 16 percent slide from the fall enrollment of 5,025 students. It's also at least 400 students below
the projected level of 4,628, according to figures provided to the university's board of visitors last Thursday.
That means the once fast-growing institution will have its smallest student body in at least 10 years — a 2,000 student decline from the peak enrollment of 6,200 in 2012. The decline also will shrink VSU's budget by another $2 million to $3 million.
That's on top of the $18 million in reduced revenue VSU dealt with in the fall and that led to Dr. Miller's resignation.
The university now expects to finish the year with $162 million in revenue from all sources, or about $20 million less than anticipated when the board approved its $182.3 million budget last June.
Asked if VSU's enrollment has hit the low point so it can begin to rebound, Dr. Hammond was frank: "I don't know, but I hope so." And just as Dr. Hammond rolled out her plan for changing the university's outlook and boosting recruitment, the board of visitors appeared to undercut her.
The board did so by announcing it would immediately begin a national search for a new president, without any assurance she would be the choice and before giving her a chance to prove herself.
Harry E. Black, VSU's rector, defended the board's decision to move forward in finding a new chief executive, stating that the board has a duty "to ensure that a permanent president is recruited and appointed."
In an email to the Free Press, Mr. Black, who also serves as Cincinnati's city manager as well as co-chair of VSU's presidential search committee, insisted that the search "should in no way suggest that the board lacks confidence in Dr. Hammond," who will be a candidate.
He stated the board has "great expectations of her" and believes the faculty and staff would "respect and appreciate her ... even more in knowing that she will be leading, while also competing to get the job on a permanent basis."
Mr. Black dismissed concerns about the cost of a search — estimated at $273,000, including hiring a search firm and other expenses. He said the cost is in line with that spent on such searches, even at a time when the cash-strapped institution might have to reduce staff and is seeking a $3 million infusion of tuition aid funds from the General Assembly.
Dr. Hammond did not comment on the board's decision. Instead, she introduced a multifaceted approach to getting VSU back on track that she titled "Strategies for Success."
On the financial front, she said the spending freezes would provide her with some breathing room as she contemplates methods to balance the budget.
Dr. Hammond said she is determined to do all she can to avoid having "any impact on academics," which she called the "reason we are here."
Still, all academic programs will be reviewed to identify programs that might be reduced or eliminated without hamper- ing the university's mission.
She said she would seek to avoid layoffs, preferring to "down- size" through attrition, or by not replacing staff and faculty who leave or retire.
However, she said the hiring freeze would not keep her from seeking to replace the outgoing chief financial officer, David J. Meadows, and hiring a new police chief to fill a vacancy left by retirement.
She also plans to step up fundraising in a bid to reduce dependence on student payments of tuition and fees. She said one area of focus would be on increasing contributions for scholarships to assist students who need help to cover the full cost of attending VSU.
In the past year, the university was able to keep 400 students enrolled who lacked a few hundred dollars by providing tuition assistance from a special fund. But she said more donations are needed to increase the help that can be offered.
She also wants to do more to engage the faculty and staff in fundraising and in seeking grants. To bolster that effort, she said she also would hire a full-time grant writer — despite the freeze — in a bid to bring in more money.
She said VSU must focus on this effort, noting that the university, like other HBCUs, has been hit hard by changes in federal policies that have made it tougher for low-income parents to get loans to help their children
.
"Many of our students are the first in their families to go to college, and we need to do all we can to make it possible," she said.
Her plans to stabilize enrollment also will include expanding VSU's recruitment statewide and targeting specific out-of-state markets where interest in the university is high. She also wants to push to diversify the student population and expand online offerings.
She also wants the university to improve relations with alumni and be more consistent in its public relations message. She also plans to build a relationship with students, faculty and staff by hold- ing meetings with them and keeping up communications with them.