Personality: Catherine Monteith Marchetti
11/27/2014, 6 a.m.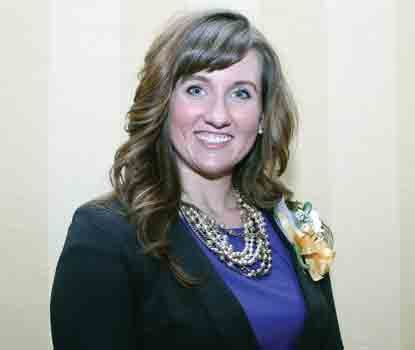 Catherine Monteith Marchetti loves being a teacher.
She credits her parents and her adopted brother, Alex, for steering her into the field of education.
She recalls her mother working "so patiently trying to teach (my brother) the language and developmental skills" that did not come naturally to him.
"I became an early childhood exceptional education teacher because I want to help children like Alex," Ms. Marchetti says.
And what a teacher she is.
Ms. Marchetti, 26, ranks among the best of the best in Richmond Public Schools.
She is Richmond's 2015 Teacher of the Year.
Superintendent Dana T. Bedden presented the award to her, along with a $1,000 stipend, last week at a Downtown hotel.
The educator from Amelia Street School was singled out from among more than 40 colleagues who won teacher of the year honors at their individual schools.
"It was definitely a little surreal," Ms. Marchetti says when she heard her named called.
"It is such an incredible honor. And, honestly, I'm just grateful every single day that I am given the opportunity to impact my students, their families and my community in such a meaningful way."
She will represent Richmond in an upcoming regional competition.
A graduate of the University of Virginia, Ms. Marchetti began teaching four years ago at Amelia Street, a unique specialty school near Byrd Park that serves students ages 2 to 21 who have special needs.
In her work, she strives to build a strong relationship with each and every child so "I can meet them where they are."
She says she strives "to teach the whole child" and ensure that the social, emotional, physical and developmental needs of those put in her charge are met.
The reward from her work: "Being able to witness the successes of my students. I love getting to make a positive impact on their lives and providing their families with the tools and confidence to do so as well."
Meet this week's Personality, Catherine M. Marchetti:
Date and place of birth: Dec. 21 in Richmond.
Current home: Richmond.
Alma mater: University of Virginia, bachelor's degree in psychology and master's of teaching in early childhood special education.
Family: I am the middle of five children. I have two sisters and two brothers and the cutest little niece, Eleanor.
Occupation: Early childhood exceptional education teacher at Amelia Street School in Richmond.
First teaching job: I started my teaching career at Amelia Street School and have been there ever since! We are so lucky to
have physical therapy, occupational therapy, speech language therapy and hearing and vision services all housed right within our school building. That allows comprehensive therapies and support to be incorporated daily into each students' instructional program.
Community involvement: In an effort to grow as both an educator and community advocacy leader, I have been taking classes at Virginia Commonwealth University through the Virginia Leadership Education in Neurodevelopmental Disabilities Program. I realize this will be a continuous endeavor as best practices and policy change over time. But the tools and knowledge I am gaining allow me to be a vital source of information and hope for my extraordinary students and their families. I strive to serve the community every day through my commitment and passion of helping children with disabilities.