Coalition of church groups, others help trailer park residents to improve homes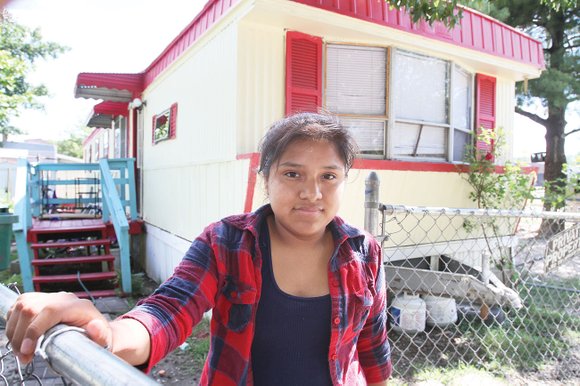 Father Shay Auerbach has a deep affection for the families that live in Rudd's Trailer Park on South Side.
Many of them attend Mass at the nearby Sacred Heart Catholic Church where he serves as pastor. Others seek social services at the Sacred Heart Center he directs in the 1400 block of Perry Street.
"They are a very tight-knit community, great family people who really love and look out for one another," Father Auerbach told the Free Press.
He said he is deeply concerned about the fate of the families that are being evicted as part of an ongoing code enforcement effort by city inspectors at Rudd's.
"A lot of them are beyond the safety net," Father Auerbach said of the residents at Rudd's at 2911 Jefferson Davis Highway. Many of the park's residents are Latino.
A recently formed Mobile Home Park Coalition has been helping residents repair or install permanent heating sources, flooring, porches, windows and doors to satisfy the state's code requirements for manufactured homes.
Father Auerbach is part of the diverse coalition made up of faith-based organizations, legal aid, nonprofits and others that have reached out to help.
"We're trying to mobilize volunteers and resources to help the residents bring their trailers up to code," Father Auerbach said. "They very much value the community they live in."
Rudd's owner Ronnie Soffee told the Free Press about 20 trailers have been condemned. He said those residents have moved out since the city sweep started in February.
He said about 80 other trailers remain occupied.
Mr. Soffee, 66, told the Free Press he's struggling to pay the bills to operate the mobile home park. Further condemnations could force him to close the park and sell the property, he said.
He noted that a longtime tenant plans to move because he cannot afford the thousands of dollars it would take to meet code standards.
Mr. Soffee has owned and managed Rudd's since 1997, when he inherited it from an aunt who died.
He also has been asked by the city to bring up to code about 100 electrical pedestals outside the trailers.
Mr. Soffee said an electrical contractor he hired has refurbished nearly half of the pedestals so far. He said he expects the rest to be repaired within the next few weeks.
Phil Storey, an attorney with the Richmond-based Legal Aid Justice Center that is helping lead coalition efforts, said they submitted a plan to Douglas H. Murrow, the city's commissioner of buildings, in July.
"They asked us for drawings and calculations showing how we're going to make sure it's structurally sound," Mr. Storey said.
Mr. Murrow assessed the plan positively.
"We are in agreement with the basic concept of the proposal. However, we are working on specific details to assure compliance with the state building code regulations," he told the Free Press in an emailed response to a query.
Meanwhile, coalition members are pushing ahead to assist the predominately Latino community.
Chief among those helping is Olivia Leon-Vitervo, a Thomas Jefferson High School senior, who lives in the park with her family.
She translates city communications to frightened and often confused Latino neighbors, who do not speak or understand English. She also attends coalition meetings and updates her neighbors on what they need to do to meet code requirements.
Contractor Bobby Nisbeth, a a member of the Cathedral of the Sacred Heart parish, also has been an integral part of the effort, volunteering hundreds of hours in coordination and repair efforts.
"It's really the call of the church to serve the poorest of the poor," Mr. Nisbeth said of his reasons for pitching in.
"Instead of wanting others to understand our needs, wouldn't it be better to help our neighbors in need?"
The group also has enlisted the aid of structural engineer Charles R. Field of Obsidian Inc. and master electrician Oswaldo Gavilan of A+ Contractors.
"A lot of people from the community who don't necessarily have a stake in this have come forward to help", Mr. Storey said.
Other members of the coalition are Sacred Heart, Cathedral of the Sacred Heart's social justice committee, First Baptist Church of Monument Avenue, the Knights of Columbus, Phi Gamma Delta Fraternity at Virginia Commonwealth University; and about a dozen area nonprofits.
Mr. Murrow said he directed six inspectors to comb through Rudd's after two mobile home parks had fires in recent years. One was at Rudd's in 2012.
Mr. Soffee said this is the fourth time he recalls city inspectors conducting searches of the 50-year-old, family-owned trailer park.
Mr. Murrow said "plans for similar sweeps in the near future are being developed" for the approximately 530 mobile homes in the city.