2 top basketball standouts commit to UR
Fred Jeter | 8/11/2015, 11:13 a.m.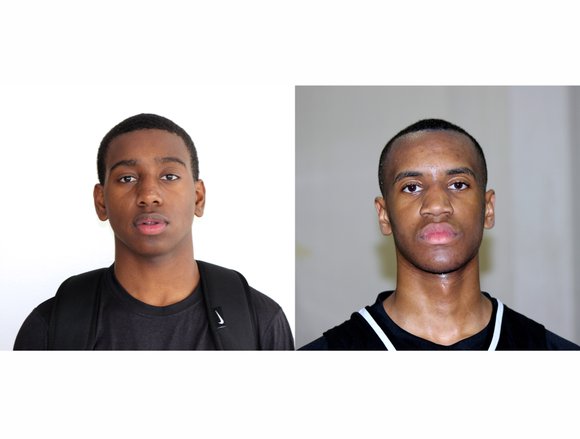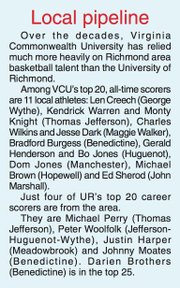 Imagine winning the lottery, then two days later winning it again.
That's about how University of Richmond basketball Coach Chris Mooney felt after landing two highly acclaimed rising seniors from the 804 area code.
Henrico High School's De'Monte Buckingham gave a verbal commit to UR July 29. Then some 48 hours later, St. Christopher's Nick Sherod announced he would be a Spider, too.
Neither officially can ink a National Letter of Intent until the Nov. 11-18 NCAA early signing period.
Buckingham and Sherod are arguably the top local players to commit to UR since Michael Perry of Richmond's Thomas Jefferson High School in 1977.             
Both are coming off take-notice junior seasons.
The 6-foot-4 Buckingham was named Conference, Region and State Player of the Year after leading Coach Vance Harmon's Warriors to the State 5A title.
Buckingham averaged 22 points, 10 assists, five assists and three steals and will start his senior season with about 1,400 career points.
He has a chance to become the only player in Virginia's public schools since 1970, when schools were integrated, to play on three state championship teams.
In Buckingham's three varsity seasons, the Henrico High Warriors have been a dominating 80-10.
The versatile Buckingham shines all over the floor. Never were his all-around skills more on display than in Henrico High's 96-70 rout of Freedom High School of Woodbridge in the state semifinals in March at the Siegel Center in Richmond.
In overwhelming the Woodbridge school, Buckingham had 24 points, 14 rebounds, 10 assists, three blocked shots and seven steals.
Among 14 schools offering Buckingham a full ride were Virginia Commonwealth University and Rice University that is coached by former VCU assistant Coach Mike Rhoades.
Buckingham may have been leaning toward VCU prior to Coach Shaka Smart's decision to move to the University of Texas.
Sherod is a 6-foot-4 guard who averaged 25 points, 9.4 rebounds, 2.7 assists and 1.9 steals this past winter for Coach Hamill Jones.
Named to the All-Virginia Independent Schools first team, Sherod hit 78 of 145 three-point shots, or 42 percent, while helping the Saints to a school record 22 victories.
He is the son of E.J. Sherod, a former John Marshall High School and Old Dominion University player, and grandson of Ed Sherod, a former John Marshall High and VCU standout who played for the NBA's New York Knicks.
The youngest Sherod is at his best against the stiffest opponents. In three state VIS tournament games, he averaged 36 points and 11 boards.
With still a year to go, he is St. Christopher's all-time scorer with 2,019 points. He became a Saints' regular as an eighth-grader.
Among schools offering Sherod a scholarship were Virginia Tech, The College of William & Mary and East Carolina and Rice universities.
Several Division I area prospects in the Class of 2016 remain unsigned.
That list includes Jeremy Sheppard of John Marshall High School, Maliek White of George Wythe High School, Jermaine Mathews of Millwood School in Chesterfield and Curtis "Cujo" Jones.
The 6-foot-3 Jones played at SportsQuest Academy in Chesterfield and Highland Springs High before transferring to Huntington Prep in West Virginia.
Both VCU and UR figure to be involved with one or more from the list.
The state's No. 1 prospect for 2016 is 6-foot-10 Sacha Killeya-Jones of Lynchburg's Virginia Episcopal School. He has offers from UR and VCU as well as the University of Virginia and Virginia Tech.