Wow! What a week for Jackie Bradley
Fred Jeter | 8/27/2015, 8:05 a.m.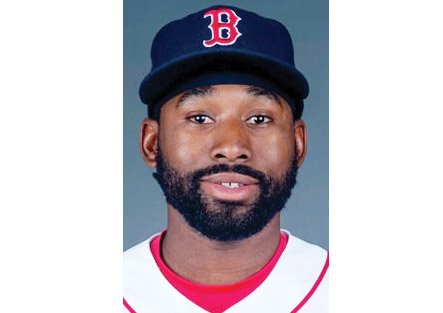 If Baseball Hall of Fame credentials could be based on just a week instead of a career, Jackie Bradley Jr. might already be preparing his Cooperstown acceptance speech.
The 25-year-old Boston Red Sox outfielder with Richmond-Petersburg area ties was almost other worldly in hitting during the week of Aug. 9 through 15.
In five games that week, the left-handed hitting leftfielder had 13 hits in 22 plate appearances, an extraordinary .591 batting average that included four doubles, two triples, three home runs and 13 runs batted in.
The pièce de résistance came Aug. 15 when he collected five hits (three doubles and two homers) with seven RBI in the Sox's victory over the Seattle Mariners.
Bradley's first homer against Seattle was belted to dead center at Fenway Park — the deepest point — off former Cy Young winner Felix Hernandez.
Boston's baseball history features some of the top slugging outfielders in the annals of the game, with Ted Williams, Jim Rice, Carl Yaztrzemski, Manny Ramirez and even Babe Ruth on the team's all-time list.
None, however, ever enjoyed a week much better than Bradley, whose nickname is "JBJ."
"Every single day I want to go out there and show that I'm putting in the work," Bradley told Yard Barker, an online sports news site. "You can't worry about results —you've just got to put in the work."
Bradley had struggled in previous Boston call-ups.
Before his heroic week, he was just 5-for-58 this season for the Red Sox and finished last year in a 1-for-36 rut.
A 5-foot-10, 200-pounder, Bradley starred at Prince George High School and with the Richmond Braves National AAU travel team.
He is the son of Jackie Bradley Sr., a Richmond bus driver, and Alfreda Hagans.
Both Jackie Sr. and Jackie Jr. were named after legendary soul singer Jackie Wilson. Jackie Jr. also is proud to have the same first name as baseball icon Jackie Robinson, who broke the color barrier in the Major Leagues in 1947.
In 2010, Bradley was named Outstanding Player at the College World Series in Omaha after leading the University of South Carolina to its first title.
Boston made Bradley the 40th overall draft pick in 2011 following his junior year at South Carolina.
He's been up and down between Boston and the minors several times the past two seasons. His most recent chance to make "The Show" was due to an injury to regular left fielder Hanley Ramirez.
Before each at bat, Bradley uses the handle of his bat to write the initials "MS" in the on-deck circle. That is a tribute to the late Matt Saye, a close high school friend of Bradley's who died in a 2011 car accident.
In Saye's obituary, Bradley was listed as a "brother," even though the duo were not biologically related.