George Wythe wins championship
3/19/2015, 1:29 p.m.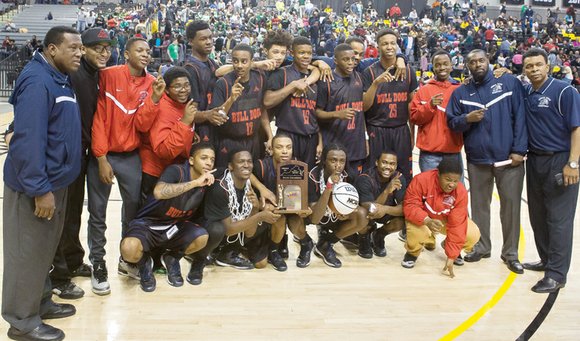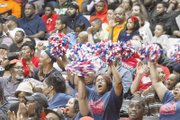 Maliek White wore George Wythe High School basketball jersey No. 1 and Brandon Holley wore No. 2.
Together, they formed a knockout combination that lifted the South Richmond team to its first state championship in the school's 55-year history.
Walloping everyone in sight and leaving a trail of tears, White and Holley were almost otherworldly on March 11 at Virginia Commonwealth University's Siegel Center, site of the Virginia High School League 3A Final Four.
The two Bulldogs may have been the best combo since Captain Kirk and Mr. Spock of Star Trek legend, guiding the starship Enterprise to new places.
In George Wythe's lopsided wins over Northside High School of Roanoke in the semifinals, 78-67, and Spotswood High School of Rockingham County in the final, 80-60, White and Holley combined for 103 points by themselves.
White, a 6-foot-2 junior who ranks among the top college prospects in Virginia, had 25 points against Northside and 36 points in the finale against previously unbeaten Spotswood.
Holley, a 6-foot-2 senior leaning toward attending Delaware State University, poured in 22 points against Northside and 20 points against Spotswood. In two games, he nailed eight 3-pointers.
Both are bona fide first-team All-State candidates.
Third-year Coach Willard Coker's Bulldogs muscled through the postseason like a heavyweight in a middleweight division. The Bulldogs even took on a menacing Darth Vader image in the final, coming out in black jerseys and shorts.
Of the team's nine victories in conference, regional and state play, only its 78-72 conference win over Hopewell High School was by less than 14 points. And in a regional rematch with Hopewell, the Bulldogs rolled 95-47.
White and Holley didn't do it alone.
Senior lead ball-handler Maurice Coleman dished out a whopping 19 assists in the two games at the Siegel Center and snared 20 rebounds.
Senior Eric Crews, who had 10 rebounds against Northside, offered a bruising presence on the low post, especially defensively.
Wythe's other non-senior starter, along with White, was 6-foot-7½ Richard Sanders, who became eligible in late February.
Adding Sanders to the already potent lineup was like taking on rocket fuel for the home stretch.
The long-limbed Sanders had 22 points and 24 rebounds at VCU, while blocking six shots.
The Bulldogs' bench also drew raves.   
In semifinals, junior Kareem Horton buried four three-balls. Against Spotswood, junior Malik Nelson had seven points, three rebounds.
Jerimiah Huff, a 6-foot-7 junior, was limited at VCU due to a turf toe injury. Another promising big man, 6-foot-6 Kabir Shabazz-Allah, will graduate to varsity next season.
Wythe finished with a misleading 26-6 record. Two losses were forfeits due to a scheduling snafu.
Other L's were to private schools Blue Ridge Prep, Atlantic Shores and Bishop Sullivan, who have older players.