Chemistry clicking among George Wythe players
Fred Jeter | 2/12/2016, 6:23 p.m.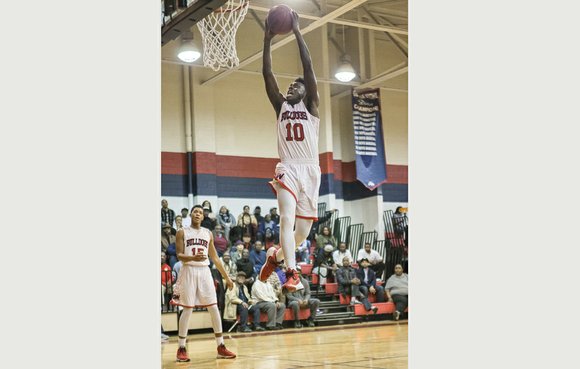 There appear to be three basic categories of George Wythe High School basketball Bulldogs.
There's the obvious leading man, senior do-it-all guard Maliek White, the Providence College-bound 2015 State 3A Player of the Year.
Then there's a quartet of rookies, plugging holes in the lineup left by the loss of four starters from last year's 26-6 state champions. 
And then … drum roll please … there's a much-anticipated cavalry charge. More on that later.
If all three elements click, the Bulldogs just may stage a gallant, come-from-behind finishing kick to contend for postseason bows.
"I feel good despite our record," said George Wythe Coach Willard Coker. "We've had to break in a bunch of new kids into a tough system. In three of those losses, Maliek didn't play (due to a thigh bruise) and they were still winnable games."
Wythe improved to 10-7 on Monday night with a 79-58 victory over Cosby High School.
In what has been a winter of navigating choppy waters, it was the Bulldogs' fourth straight win.
"We needed time playing together to get some chemistry," said White. "If we play as a team, we can make another run" at the state championship.
George Wythe lost three seniors from last year's team, plus 6-foot-8 Richard Sanders, who transferred to 5A powerhouse Henrico High School.
Stepping into prime time has been 6-foot-2 sophomore Eugene Williams, 6-foot junior Kareem Horton, 6-foot-3 senior Malik Nelson, and 6-foot-6 junior Kabir Shabazz-Allah.
All are talented and each has enjoyed his moments. Consistency, understandably, has been the issue.
Long limbed and lithe, Shabazz-Allah is averaging nearly a double-double (points and rebounds) and appears to be the Bulldogs' star in waiting, at least on the current roster.
"He can be the best big man in the area," said Coach Coker. "Right now, he's finding his way."
Known to friends as "KB," he is the son of 6-foot-6 Trevonne Eggleston, the 1992 Dominion District football defensive player of the year at Huguenot High School.
Coincidentally, Shabazz-Allah enjoyed his best game Feb. 1 against Huguenot, dropping in 21 points.
"I'm just trying to play hard and hit the boards," Shabazz-Allah said. "Coach wants me to be a scorer, too. I'm trying to be."
As a sophomore, Shabazz-Allah played on Wythe's junior varsity team. He watched the state games, including Wythe's 80-60 romp of Spotswood High in the final, tucking his long legs into a Siegel Center seat.
"I just watched and cheered the team on," he recalled.
Now news of the "cavalry."
Coach Coker is hopeful of increased firepower later this month for the challenging Conference 26 tournament at the Arthur Ashe Jr. Athletic Center. The Bulldogs' roster will expand with some spring semester add-ons.
"I really don't want to name any names until they're out on the floor," said Coach Coker. "You've got to understand."
At least one is an athlete in Shabazz-Allah's height range, who transferred from another city school.
The "cavalry" cooled its heals for eligibility as the end of the fall semester was moved from Feb. 2 to Feb. 9 because of time lost to weather.
Conference 26 has determined the past two state champs — John Marshall High School in 2014 and George Wythe High School in 2015 — and likely will again. Both conference finalists advanced to the regions.
John Marshall High and Hopewell High School, runner-up to George Wythe last year, loom as conference favorites this season.
But with White, along with an improving cast of newcomers, and the cavalry's trumpeted arrival, the Bulldogs could be at their best when it counts the most.