Personality: Helivi L. Holland
Spotlight on president of Old Dominion Bar Association at its 75th anniversary
5/29/2015, 8:38 a.m. | Updated on 5/29/2015, 10:57 a.m.
Helivi L. Holland knew at a young age that advocating for justice was her passion.
"I was willing to verbally challenge others, including the teachers, when I felt someone was being unfairly treated. That started around second grade," she said.
She has turned that passion into a successful career as an attorney and human rights advocate.
Ms. Holland, who is the first African-American to serve as city attorney for Suffolk, is the president of the Old Dominion Bar Association, the oldest statewide predominately African-American bar association in the nation.
The trailblazing organization is marking its 75th anniversary with a four-day conference in Richmond, beginning Thursday, May 28.
The event will celebrate the ODBA's "founders, its fortitude and its future," according to organizers.
Among the organization's earliest iconic members: Attorneys Oliver Hill Sr., Samuel Tucker, Spottswood Robinson and Thurgood Marshall, who courageously spearheaded and won numerous civil rights court cases.
Ms. Holland was elected to a two-year term as ODBA president May 30, 2014, succeeding Vinceretta T. Chiles of Richmond.
"After years of admiration of the accomplishments of ODBA members and after serving on the ODBA's Executive Committee for over 10 years, I decided to take on the challenge of leading the organization," she explained.
The ODBA's 75th anniversary celebration will include a public ceremony at the Virginia Supreme Court to honor the court's first African-American justices.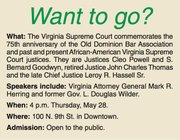 It also will feature a black-tie gala, legal education seminars, a golf tournament and an array of speakers, including former Gov. L. Douglas Wilder, Attorney General Mark R. Herring, Judge Roger L. Gregory of the 4th U.S. Circuit Court of Appeals, state Sen. A. Donald McEachin of Henrico, Dr. Steven G. Blunt, president of the Baptist General Convention of Virginia, and Paulette Brown, the first black woman president-elect of the American Bar Association.
Ms. Holland will wear several administrative hats as she oversees the 75th anniversary commemoration.
"I have assisted with planning the conference regarding CLE (Continuing Legal Education) credits, presenters, speaker selections, decorations, award selections and other various tasks," she says.
In her leisure, Ms. Holland says she enjoys "going to good movies on the first day of release" and spending time with her family.
Here's a look at this week's Personality, Helivi L. Holland:
Date and place of birth: April 10 in Suffolk.
Alma maters: Virginia Tech, bachelor's degree in business management; The College of William & Mary Law School, J.D.
When the Old Dominion Bar Association was first established: 1940.
Its mission: Virginia's advocate for equal justice.
Why it's necessary today: The recent activities in various realms of the three branches of government cry out for our members to be attentive and responsive to injustices.
How ODBA has changed since founding: Our challenges have changed regarding having minorities in various legal and non-legal positions. At our onset, we were only pursuing efforts that our members be considered and selected. Now we are pursuing efforts to make certain that our members remain in these positions, in addition to being in other positions that dispense, ensure and/or mandate equal justice for all citizens.
How is the ODBA recognized: The ODBA remains on the forefront as an organization in which its members and their collective opinions are sought, recognized and strongly considered regarding the justice system.
ODBA's greatest challenge: Remaining a bar organization of choice to potential members when there are so many other local, specialty, statewide and national bar associations in which an attorney may have membership.
How I plan to meet that challenge: My commitment upon election was to increase the ODBA's visibility in the legal community. The body agreed to support me in having three types of activities:
· ODBA Awareness and Award Reception at each law school in Virginia, awarding one student at each law school a "Book and Materials Scholarship."
· ODBA outreach to other minority bar associations to increase our membership as a statewide bar association.
· ODBA First Day of Practice Program, where the ODBA is present at the first seminar for newly admitted attorneys who have passed the bar so they will know the importance of the ODBA and can join for free for one year.
The ODBA's greatest satisfaction is: To see its members break the color and gender barriers in so many ways to include holding positions such as government lawyers; partners in firms; local, state and national elected officials; professors at private and public universities and colleges; members of boards of directors; and local, state and federal judges, just to name a few.
Status of justice in Virginia: We encourage our legislators to remain conscious of the need to promote diversity of judicial benches in all judicial districts and state and federal courts.
Role of improving justice for the poor/disenfranchised: We diligently try to play a significant role in providing recommendations for our statewide and federal judgeships.
No. 1 achievement as lawyer: I have been given so many career opportunities as a result of a degree in law that I cannot say which achievement is my top one.
Advice to students studying to become lawyers: Take chances and try the practice of various types of law before selecting any specialty. You will naturally transcend into the field of law that best suits your personality and your strengths.
Best late-night snack: I Should not do it, but Doritos — nacho cheese only — or fresh popped popcorn with butter, and add peanut M&Ms.
Pet peeve: Tardiness and messiness.
Outlook at start of day: Can I get a few more minutes of sleep?
End of day: Did I treat people the way I want to be treated in everything I did today?
Person who influenced me the most: My mother with her constant encouragement and biblical teachings.
Book that influenced me the most: "Oh, the Places You'll Go!" by Dr. Seuss.
If I've learned anything in life, it is: Always have a plan, but be willing to make productive adjustments.
Next goal: RETIRE!!!!!!!!!