The road back
Stroke survivor counts blessings
Joey Matthews | 5/29/2015, 6:36 a.m. | Updated on 5/29/2015, 11:03 a.m.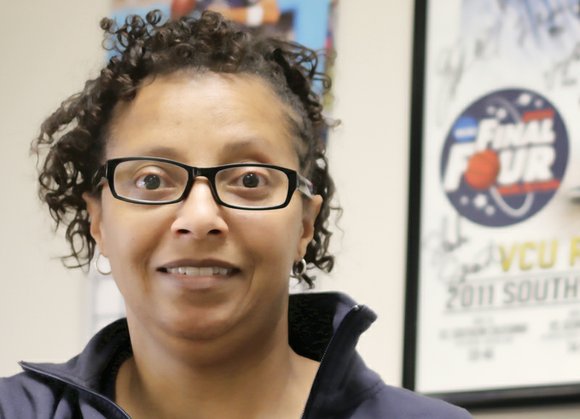 DeTrease Harrison never considered herself to be a candidate for stroke.
"I thought only old people had strokes," the 45-year-old South Side resident said.
Ms. Harrison suffered a debilitating stroke on May 15, 2014, in her home.
"It happened during my sleep," she recalled. "I was not aware of it."
"I got up to take a shower the next morning before work and fell. My mom called. I told her I had fallen and couldn't get up. She said, 'Don't move. I'll be right there.' Instead, she dialed 911 and the paramedics broke into my house to save me."
Ms. Harrison spoke with a Free Press reporter last week about her experience and recovery as National Stroke Awareness Month winds down. The interview was held in her office at the Department of Athletics at Virginia Commonwealth University, where she has worked as assistant athletic director for business since 1994.
Her workspace has been adapted to mitigate the paralysis that affects her left arm and hand. She also suffers from short-term memory loss and struggles to maintain her focus.
"I've learned it can happen to anyone at any age," Ms. Harrison said of her stroke. "I had none of the usual risk factors."
Ms. Harrison was rushed by ambulance to VCU Medical Center in Downtown, where she underwent surgery to remove a blood clot in her brain.

"My stroke was from a congenital heart defect that I didn't know I had," Ms. Harrison said she later learned.
Dr. Yvette Johnson-Threat, chief medical officer at Bon Secours Richmond Community Hospital in Church Hill and Memorial Regional Medical Center in Hanover County, said the warning signs of stroke can be remembered using the acronym FAST — Facial drop, Arm weakness and Speech difficulty means that Time is crucial.
"If you have symptoms and warning signs, every minute counts," stressed Dr. Johnson-Threat.
She said she has worked with hundreds of stroke victims as a physician for more than 20 years. "If you know what the symptoms are, you know you should be activating 911," she said. "Every minute that you lose, you diminish your chance of having a good outcome.
"If you don't wait, you have the opportunity to get medicine that will restore the blood flow in the brain that's blocked by a clot. You have to get care in a certain amount of time."
According to the American Stroke Association, African-Americans are impacted more by stroke — the No. 3 cause of death in the United States — than any others and are more likely to suffer a stroke at a younger age.
Dr. Johnson-Threat said the risk is higher because "two out of every five African-Americans have high blood pressure, one out of every five African-Americans smoke cigarettes" and because of "high-sodium diets and high cholesterol."
When Ms. Harrison was discharged from VCU Medical Center on July 2, she went to live with her mother, Gale Lewis, in Amelia County, as her recovery continued. Her mother cooked her meals and cleaned for her.