First Baptist Chesterfield project lacks black participation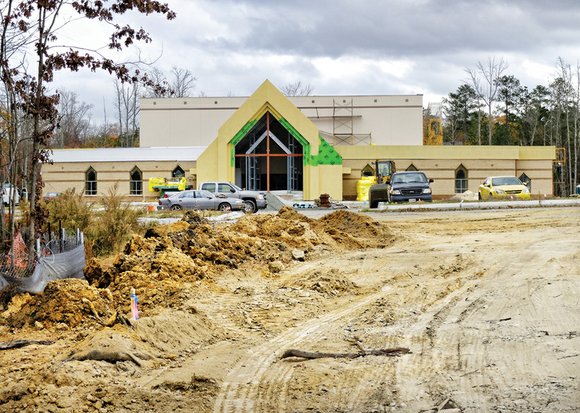 First Baptist Church of South Richmond has poured nearly $6 million into buying land and developing its long-planned satellite sanctuary in Chesterfield County.
But as the 1,400-seat sanctuary nears completion, there is little evidence that black-owned businesses have been included in the work now underway at 6201-11 Iron Bridge Road.
From the general contractor to the plumbing and electrical firms that have worked on the site, public records show participation in the project only involves substantial white-owned firms.
For example, the general contractor is Joplin Construction Design & Management, a Missouri firm with a long track record in church construction, but with little evidence of black inclusion. Company officials did not respond to requests for comment about participation of black-owned businesses as subcontractors.
According to the Chesterfield County building inspection office, only a few firms have subcontracts, and those include three from the Richmond area, Advanced Plumbing, Mid-Atlantic Controls and State Electric. None are black-owned companies.
And that's a surprise, given the church's leadership and its history as the oldest independent black church in what is now the city of Richmond.
Founded in 1821 in what was then the Town of Manchester in Chesterfield County, the church's senior pastor, Dr. Dwight C. Jones, is also Richmond's mayor, a post from which he has championed inclusion of black-owned and other minority companies in city projects.
The church's full-time pastor is his son, Dr. Derik E. Jones, who also represents the city's 8th District on the Richmond School Board.
Asked about the inclusion of black-owned companies in the satellite sanctuary project, Dr. Derik Jones responded, "It is now our policy that we do not discuss private church endeavors in the public arena."
Comments also were sought from the church's five trustees. Three could not be reached. Two others, both of whom own successful businesses, could not name any black-owned businesses involved in the project. However, the trustees have mostly been involved in the purchase of real estate and in the securing of lines of credit with SunTrust Bank and Union Bank & Trust Co.

The Free Press first raised the question of inclusion of black-owned businesses earlier this year as the project began to take shape.
Construction has been going on since the beginning of 2014 and has taken longer than expected. Church officials indicated last year that the space would open in late spring 2015. It is unclear why the work has been delayed.
First Baptist has not announced a date for the opening of its new sanctuary.