Panthers roaring back
10/16/2015, 10:21 p.m. | Updated on 10/16/2015, 10:21 p.m.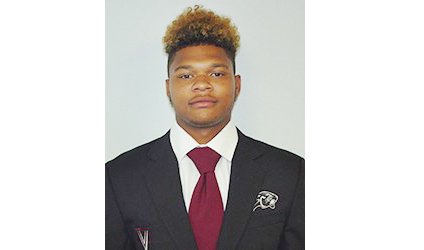 There was a time when Virginia Union University dominated CIAA football and ranked among the most successful programs in NCAA Division II.
Coach Mark James may restore the lost glory.
The Panthers are roaring again on Lombardy Street as VUU prepares to meet Chowan University at Saturday's homecoming game at Hovey Field.
Even legendary coaches Willard Bailey and Joe Taylor never overpowered the opposition statistically like the current football team.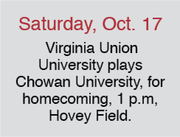 Through six games, contemplate VUU's lopsided numbers:
Record: 1-0 in the CIAA Northern Division after annihilating Lincoln University 66-27 on Oct. 10 in Pennsylvania. VUU also is 3-0 in the CIAA and 5-1 overall. Its lone loss was to FBS Gardner-Webb University 13-9 in a "guarantee game."
Scoring: VUU has outscored six opponents 207-84.
Yardage: 2,532 for VUU, 862 for its opponents.
First downs: VUU leads 120-60.
Polls: VUU is ranked No. 1 among HBCU Division II colleges by Heritage Sports Radio Network.
NCAA: VUU's dreaded "Terror-tory" defense leads Division II in total yards and rushing yards allowed. 
There is momentum aplenty among the Panthers after accumulating 534 yards overall and 390 yards rushing at Lincoln University, where VUU rained and poured on the host Lions' homecoming parade. It was a one-sided "cat fight" if ever there was one.
Now it is VUU's turn to celebrate homecoming and all systems — offense, defense and special teams — are "go, go, go."
Individually there have been stars aplenty with freshman Hakeem Holland, the "Baltimore Bullet," shining brightest. Lincoln University not only couldn't stop him, the Lions couldn't even slow him down.
Holland was just warming up when he returned the opening kickoff for a 93-yard touchdown.
He went on to carry 16 times for 186 yards, with touchdown dashes of 13 yards and 43 yards.
For the season, Holland has 650 yards rushing, 150 catching passes and 266 on kickoff returns.
The Panthers are an international cast.
Quarterback Shawheem Dowdy, who flung three touchdown passes at Lincoln University, grew up in the Virgin Islands.
Paulin Miano, a 6-foot-6 defensive lineman who had nine tackles with two sacks against Lincoln, is a native of Cameroon.
VUU is where South meets North.
There is a crowd of talent from Coach James' old stomping grounds in Florida, as well as several key transfers from ASA College in New York City.
VUU was coming off a 3-7 season in 2012 and spinning its wheels. The swagger was lost.
With Taylor returning as athletic director, his first major chore was to find a new football coach. Choosing James, a member of former Coach Mike Bailey's staff, raised eyebrows.
Coach James, a VUU alumnus, had virtually no college experience, having spent most of his career drawing X's and O's in the South Florida high school circuit.
Taylor looked past the résumé.
He spotted potential in Coach James' character, work ethic and education. Coach James holds a bachelor's degree from VUU, a master's degree from Florida Atlantic University and is working toward his doctorate in higher education.
In his first season in 2014, Coach James took the Panthers from 3-7 to 7-3 while leading the CIAA in passing. VUU might have pushed even further if it weren't for injuries to both first- and second-team quarterbacks in the season finale loss to Virginia State University.
Coaching comparisons with Willard Bailey and Taylor would be premature. From 1971 to 1983, Coach Bailey was 105-32-4, with five CIAA titles and five NCAA berths.
Succeeding Coach Willard Bailey, Coach Taylor went 60-19-3 from 1984 to 1991, with a CIAA crown and three more NCAA bids.
Coaches Bailey and Taylor each rank among the top coaches for all-time winning percentage within the CIAA, among HBCUs and on the NCAA Division II charts.
Coach James hasn't won a CIAA division or tournament title yet or been to the NCAAs.
However, after a quarter century or so with mostly ho-hum results at Hovey Field, the yawn is gone.
The Panthers' roar has been restored.