VUU QB ties touchdown school record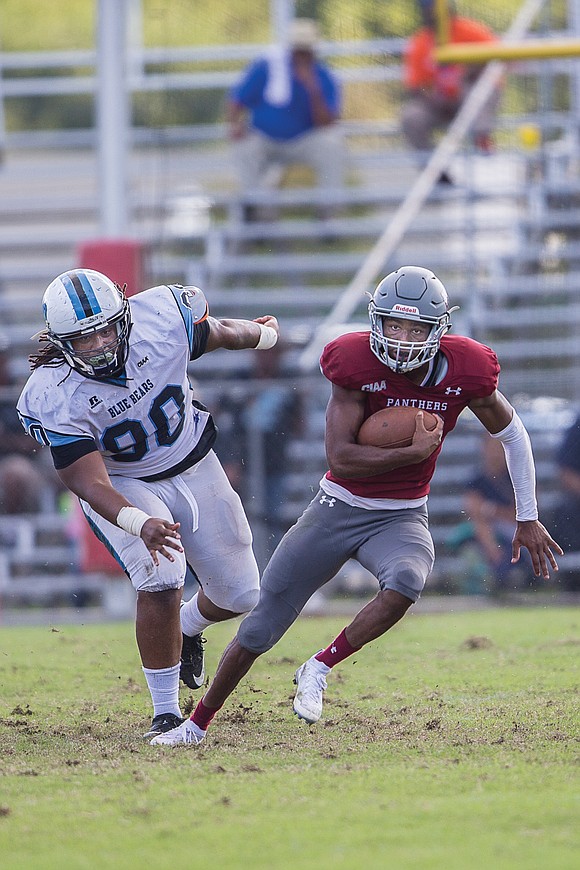 Panthers vs. Lions
Saturday, Oct. 6
Virginia Union University plays Lincoln University of Pennsylvania for homecoming at Hovey Field. Kickoff: 1 p.m.
Darius Taylor's initials are "D.T." but "T.D." might be more apropos.
Virginia Union University's senior quarterback is on a touchdown passing binge.
The Washington native sent statisticians scurrying to the record book following his air assault on Livingstone College last Saturday. Taylor tied the VUU school record with six touchdown passes in a 52-19 Panthers rout of Livingstone at Hovey Field.
Two of his six-point strikes went to freshman Kewann Calloway, an exciting newcomer from Florida. Calloway had four receptions overall for 91 yards in what amounted to his VUU coming-out party.
Taylor's six touchdown tosses tied the VUU record held by Lamar Little and Carl Wright. Little threw for six touchdowns against Tuskegee University in 2002, while Wright lit up the scoreboard for six touchdowns against Morgan State University in 1991.
Taylor wasn't picking on a weakling, either. Livingstone came into the game with back-to-back shutout victories.
VUU's "other" Taylor was center ring, too.
Sophomore Tabyus Taylor, the CIAA's leading rusher, ran for 52 yards on 19 carries and caught five passes for another 55 yards.
Coach Alvin Parker's explosive Panthers offense figures to have another productive game on Saturday, Oct. 6, against the CIAA's bottom-ranked Lincoln University.
It will be homecoming on VUU's Lombardy Street campus and chances are good that alumni will have smiles on their faces.
The Lions are 0-5 while being outscored 211-20. The Pennsylvanians were 0-10 last year, including a 45-23 loss to VUU.
The Panthers are a solid bet to at least match their season scoring average of 36 points against a struggling Lincoln defense.
The VUU offense features weapons aplenty. 
Calloway, nicknamed "Dooby," is a 5-foot-9, 160-pound playmaker who arrives with sparkling credentials. Playing both offense and defense at Fort Lauderdale High School, he made first-team All-Broward County and second team 7A All-State in Florida.
Quarterback Darius Taylor's other primary targets against Livingstone were Olu Izegwire — five catches for 86 yards — and Lavatiae Kelly —four for 62 yards.
The Panthers' schedule toughens following what figures to be a homecoming party. The team travels to Chowan University on Saturday, Oct. 13, setting up a pivotal match against powerhouse Bowie State University on Saturday, Oct. 20.
Games against Bowie State and then against Virginia State University in the Nov. 3 season finale may determine whether VUU will be playing in the CIAA championship game Nov. 10 in Salem.
VUU's last CIAA title came in 2001 under former Coach Willard Bailey. The Panthers' Coach Parker served as an assistant on Coach Bailey's staff in 2001.