Moncrief swinging for the stars with Flying Squirrels
4/8/2016, 6:56 a.m.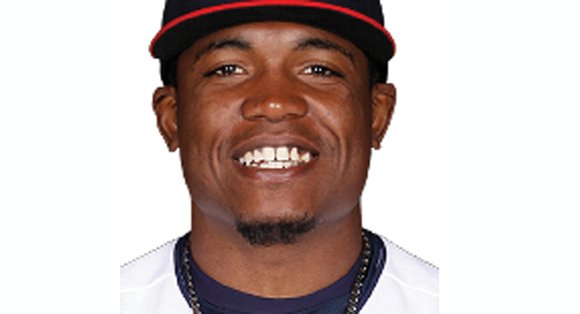 There is a pot of gold waiting at the end of the baseball rainbow. But it sure can be hard getting there.
Consider the quest of Carlos Moncrief.
The left-handed hitting outfielder has played on 15 different minor league teams in 11 leagues representing four nations — United States, Mexico, Venezuela and Puerto Rico — in pursuit of big league fame and fortune.
Richmond's Flying Squirrels, the AA affiliate of the San Francisco Giants, will be the 16th different uniform the Jackson, Miss., native has worn since turning pro in 2008 at age 19.
While Moncrief has become a high mileage performer, he insists that at 27, several years older than the average Class AA player, there is plenty of petrol left in the tank.
"I'm the Satchel Paige type — I don't age," he said with a chuckle, referring to Paige who was 42 when he made his big league debut.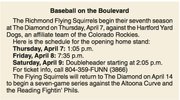 "I feel great — better than ever," added Moncrief. 
Signed as a power pitcher out of Chipola College in Florida, Moncrief converted to the outfield in 2010 and had spent his entire career in the Cleveland chain until now.
He is a former Eastern League All-Star with Akron and has played as high as Columbus, the Indians' AAA farm team.
Moncrief's low ebb came last fall when he was released by Cleveland following a difficult tenure in Columbus.
There was no time for self pity. He went straight back to work, south of the border.
He was a free agent with Navojoa in the Mexican League last winter when his agent informed him of a new beginning with San Francisco.
"I've never gotten discouraged," said the robust 6-foot, 220-pounder.
He has combined power (76 homers, 316 RBI for U.S. teams), speed (78 career stolen bases) and a phenomenal throwing arm (74 career assists, including 21 with Columbus in 2014 and 16 with Akron in 2013).
"Sure, the big leagues are my dream," he said. "But the worst that can happen is that I'm playing a game I love … and buying food for my wife and three children."
Moncrief's wife, native Californian Brandy, and his three sons reside in Goodyear, Ariz. He says he eventually wants to coach baseball once his playing days end.
As a youngster, Moncrief dabbled in basketball and football, but baseball was always No. 1 on his sporting menu. It helped that his dad, Homer Moncrief, was a pitcher in the Detroit and Chicago White Sox chains from 1980 to 1984.
Homer Moncrief rose as high as the AA Glens Falls, N.Y., team in the Eastern League.
Carlos Moncrief comes from an athletic family. His brother, Corey Moncrief, was a defensive football lineman at Ohio University.
"Even if my father hadn't played, I think I'd have picked baseball," he said. "You can get hurt playing football, and basketball season kind of went straight into baseball season."
Moncrief's peak season was with Akron in 2013, when he terrorized the Flying Squirrels from the visiting dugout.
In earning All-Star honors, he hit .284 with 17 homers, 26 doubles, seven triples and 15 stolen bases.
Moncrief is the lone African-American on the Flying Squirrels' opening day roster, although there are numerous players of color from the Dominican Republic and Venezuela. The Squirrels' first-year manager is Mexican Miguel Ojeda.
Rooming with Moncreif are two Dominicans, 6-foot-7 relief pitcher Joan Gregorio and shortstop Rando Moreno.
The Squirrels' outfielder suggests a third generation of baseball-playing Moncriefs is in the making.
"My oldest son, Carlos Jr., is 4 and he can already hit. Like me, he bats left and throws right."
With a smile the proud papa added:
"Only I think Carlos Jr. will be faster than me. There's a lot of speed on his mother's side."