Armstrong team strong on top scorers
Fred Jeter | 12/30/2016, 11:52 a.m.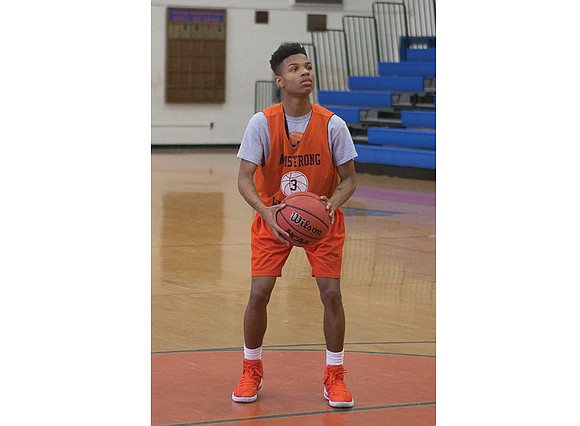 Last season, Armstrong High School basketball took one step back. This year's Wildcats hope to take a few steps forward, probably with Brian Harris leading the charge.
Harris answers to the nickname "B," but represents Plan A at Maxie Robinson Gymnasium.
"Brian grew up in our program," said Armstrong High basketball Coach Darryl Watts of his third-year starting point guard. "He's an excellent ball handler and can also be our leading scorer."
At 5-foot-8 and 140 pounds, Harris is all about quickness of foot, sleight of hand and decision-making.
"I use my speed to try and create opportunities to feed my teammates," said Harris, who is the team captain.
In helping the Wildcats to a 6-4 start highlighted by winning the Bill Littlepage Classic in late November, Harris has averaged 13 points and seven assists.
Harris is mostly a play-making guard, but capable of torching the nets himself, if needed, as evidenced by his 26 points against Hopewell High School and 24 points against Granby High School of Norfolk.
"On a given night, you never know who our leading scorer will be," said Coach Watts. "In our first 10 games, we've had four different top scorers."
Armstrong struggled to an uncharacteristic 9-12 last year after going 65-32 the previous four seasons.
The Wildcats lineup has 6-foot Marques Dortch and 6-foot-1 Jahizz Carter joining Harris on the perimeter, with 6-foot-6 Marchelus Avery and 6-foot-5 Dominique Finney patrolling the paint.
Sophomore Finney, averaging 11.3 points and nine rebounds, is the nephew of former Virginia Union University standout Greg Williams and answers to "Feet" for obvious reasons. He wears size 15 sneakers.
"He's better than the world knows," Coach Watts said. "Every day, Dominique does something in practice to amaze us."
Avery, averaging 13 points and seven rebounds, is a sophomore transfer from Highland Springs High School who actually scored 23 points last year against Armstrong High School.
"I got a text last spring that Marchelus was transferring here, and to this day I don't know who I got that text from," said Coach Watts. "It was good news though."
Providing more low-post altitude is 6-foot-6 Tyquan White, a John Marshall transfer.       
When Coach Watts wants a faster tempo, he turns to his 5-foot-5 whirlwind Zarkeil McKeachin.
"We put him on the other team's best ball handler. We want him to be a pest," said Coach Watts of the 10th-grader.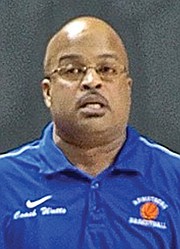 McKeachin fashions his roadrunner style after Muggsy Bogues, the former Wake Forest University mini-guard who later became an NBA first round draft pick.
Harris is a product of Armstrong's unofficial "farm system," also known as Parks and Recreation. Coach Watts is longtime coach/counselor at Charles Gill Community Center and Gymnasium at Fairfield Court Elementary School.
Harris grew up playing sports at nearby Creighton Court in Richmond. Armstrong also draws athletes from Powhatan Community Center in Richmond.
"My teams at Fairfield played against Brian's Creighton teams," Coach Watts recalled. "That's when I first met him."
Harris began attending Wildcats events when he was still an eighth-grader at Martin Luther King Jr. Middle School.
"I went to as many Armstrong games as I could just to feel the atmosphere," Harris said.
It was obvious Harris couldn't wait to slip into the Armstrong Wildcats blue and orange.
"He was here so much, after a while I just gave Brian a key to our gym," Coach Watts said.
Now you might say Harris holds the key to the Wildcats' offense, and after a short decline, it's purring again.