Armstrong Wildcats banking on speed, agility and Finney
Fred Jeter | 1/26/2018, 1:04 p.m.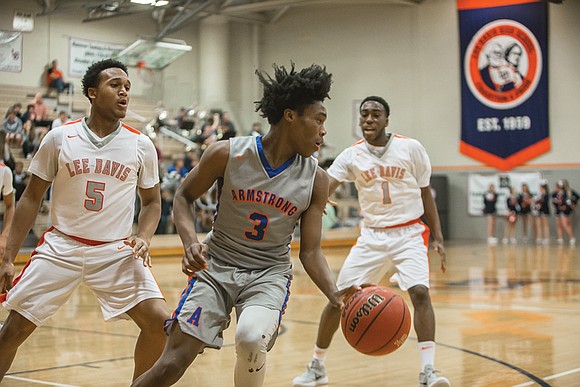 On your mark! Get set! Go!
Armstrong High School basketball Coach Darryl Watts hides no secrets about his preferred strategy.
"We want to turn every game into a track meet," said the Wildcats' coach of 16 years.  "We play fast."
What the Wildcats lack in size, the team makes up for in speed, agility and leaping. Those are the athletic elements Coach Watts strives to accentuate, and his plan is working.
Following a sputtering 1-3 start, the Wildcats improved to 10-4 by Jan. 23, with a riveting 67-65 overtime victory on Saturday, Jan. 20, at Petersburg High School and an 83-57 win Monday night over Ashland's Patrick Henry High School.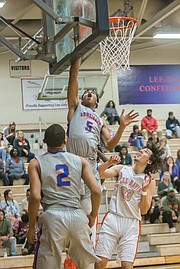 Dominique Finney, known as "Feet" because of his size 15 sneakers, played a commanding role in the Petersburg game with 34 points and 12 rebounds. He scored 22 points against Patrick Henry High.
A nimble 6-foot-5 junior who can play multiple positions, Finney is the closest Armstrong High has to a traditional center.
"But we just call him a basketball player," said Coach Watts, not wanting to cubbyhole his athletes.
Coach Watts describes his fast first five like this: "Four guards plus Finney."
The other Armstrong starters are:
• 5-foot-10 sophomore Antoine Bruce, who had 24 points in a Jan. 19 win at Highland Springs High School;
• 6-foot senior Toriano Lewis, a four-year starter;
• 6-foot-2 senior Terryon Carter, who Coach Watts says "can jump out of the gym;" and
• 5-foot-9 junior Zarkeil McKeachin, known as "the waterbug."
Armstrong is battle tested by design. Its losses came against George Wythe, John Marshall, Hopewell and James Monroe High School of Fredericksburg, all perennial juggernauts.
The East Enders found their groove Dec. 29 in Suffolk by defeating host King's Fork High School — the 2015 State 4A runner-up — in its holiday classic.
Finney, nephew of former Virginia Union University standout Greg Williams, has been drawing attention since making Coach Watts' roster as a freshman.
He was MVP at King's Fork and plays during the offseason with the Hampton-based Boo Williams powerhouse.
"Dominique is kind of at the top of the food chain," said Coach Watts. "He's the type of kid who can push it rim to rim, grab a defensive rebound and dunk it at the other end."
The most challenging games left on the Wildcats' regular season schedule are likely against Varina High School — at Varina on Friday, Jan. 26, and at home against the Varina Blue Devils on Feb. 7.
When the postseason arrives, Coach Watts knows he'll be colliding with local opponents John Marshall High, George Wythe High and Hopewell High in the 3A East Regional.
"There's nothing in the state much tougher than what we'll see with the Richmond city schools," said Coach Watts.
John Marshall High won the State 3A championship in 2014 and George Wythe High in 2015. Hopewell was state runner-up in 2016. I.C. Norcom High School of Portsmouth has won the State 3A for the past two winters after capturing 4A titles for two seasons prior.
Coach Watts feels his squad is gaining confidence and momentum with every stride.
"After the slow start, the kids are starting to buy into our system," he said. "We'll just keep doing what we're doing."
That means the race is on.