Combating summer slide
'The Books Brothers' mobilize for book giveaway at Holton
6/17/2016, 11:58 a.m.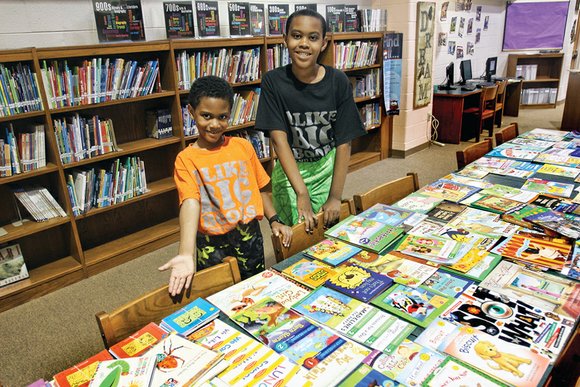 By Bonnie N. Davis
Linwood Holton Elementary School students Jace and Jazz Miles enjoy reading so much that they wanted to spread their passion throughout the school.
Thanks to some quick brainstorming by their mother, Otesa Middleton Miles, and Holton's librarian, Diane Glover, the youngsters' wish was granted in the form of a daylong "Book Bonanza" — a giveaway Wednesday in which each of the 600 students at the West Laburnum Avenue school in North Side went home with two or more books to call their own.
"It was amazing to see students squealing and jumping at the chance to choose books," said Mrs. Miles, a communications consultant for a major health care company whose flurry of action with her boys netted about 1,400 books for the event.
"If we can help students stay academically active and nurture a love of reading and learning, we've succeeded. Parents, students, neighbors, teachers and friends made this a success."
With firefighters from Richmond Fire Stations No. 14 and No. 16 to help youngsters make their selections, Holton students received new and gently used books with appealing titles and subjects, including several from the Harry Potter series and Caldecott Medal winners.
With Jazz, 10, and Jace, 7, including their younger sibling, Just, 5, in the effort, they dubbed themselves "The Books Brothers" when they canvassed the block of their North Side neighborhood for book donations.
Within four weeks, the boys collected about 1,200 books with the help of neighbors, Barnes & Noble, the main branch of the Richmond Public Library and the Lower School Library at Collegiate School.
Monetary donations from a couple of Mrs. Miles' friends went toward the purchase of new books through Scholastic, which provides literary resources for schools, teachers and families.
The Miles brothers also donated books from their own library.
An additional 200 donated books came in two days before the giveaway.
The idea for the giveaway was born after Jace celebrated his birthday last winter with a book-themed party at a local library. Each party guest took home at least one book. Noticing how much Jace's guests enjoyed the party, Mrs. Miles and her sons wanted to do something that would enable more youngsters to own books.
Mrs. Miles approached Ms. Glover with her idea. And with the approval of the librarian and Holton Principal David Hudson, she settled on a date, developed a flier and started soliciting friends to donate books.
Timing for the giveaway was perfect. Receiving books at the end of the school year helps to ensure that students will be motivated to read during the summer, researchers say, and hopefully not succumb to what has been described as the dreaded "summer slide."
Studies have shown that many elementary school students, particularly those from low-income households, tend to lose some of the academic gains made during the school year because they fail to read or have access to books during the summer break.
The "slide" is real, Ms. Glover said. "Children who are given access to books are likely to have increased reading levels and reading interest," she said, adding that all of Holton's students love to read. "We want that to continue during the summer. We don't want them to slip and slide. We want their reaching achievement to increase."
Other resources available for students during the summer include the Destiny Online Catalog system for school libraries, the "Slay the Slide" reading program and various programs at local libraries, Ms. Glover said.
Meanwhile, the Miles boys are happy that reading newly acquired books will engage many of their classmates this summer.
"I know I'm not the only person who needs to read, and reading helps you get a good education," said Jazz. "I decided to donate books and help with the book drive to help others succeed and achieve."
Jace agreed. "I think it's cool to have a book drive. I wish we had a book drive everyday," he said.
"I like giving away books because it helps other young readers to read better."