Black patrons turned away from Fan restaurant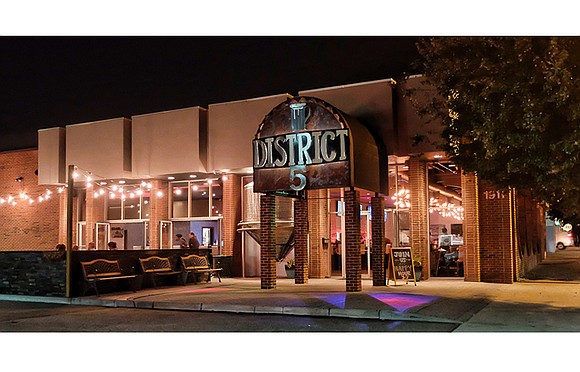 Is a Richmond restaurant using a "dress code" to bar African-American patrons? To Amanda Whitlow, it seemed that way when she went to District 5 restaurant in The Fan for Sunday brunch with her boyfriend, her brother and friends to celebrate her 23rd birthday.
But the group never got inside the restaurant at 1911 W. Main St., the former Martini Kitchen and Bubble Bar, a favorite with the African-American community that closed in 2014. A new group opened it 16 months ago as District 5.
When Ms. Whitlow tried to go in Sept. 18 for her birthday celebration, she and others said a security guard refused to allow at least two men in the group to enter, including her boyfriend, Dexter Johnson.
The reason: The "basketball shoes" they were wearing violated the restaurant's "dress code."
A Free Press reporter did not see any information posted about a dress code on a visit to District 5 last week, and it was noticeable that no African-American patrons were inside. The restaurant also does not post any information about a "dress code" on its website.

The restaurant has big front windows, and "you could see people inside wearing those running pants, sweatpants and sneakers inside," said Antjuan Fisher, a member of the Whitlow party.
"They just didn't look like us," said Mr. Fisher, production manager and executive chef for FeedMore's Community Kitchen.
"When we pointed out white males in the same shoes, along with basketball shorts, T-shirts," said Dominique Colbert, Ms. Whitlow's best friend, a staff member informed them that the restaurant could refuse service at its discretion.
"I was blown away," said Ms. Whitlow's brother, André Whitlow, who works as a chef at a Boston restaurant.
Gary Wenzel, a manager at District 5, was the staff member. Reached by phone, he confirmed that at least two members of the group were "denied entry for violating the dress code." But he declined further comment. He hung up after referring a reporter to the owners, Roland West and Hani Attallah.

Mr. West has managed Mr. Attallah's restaurants, including the Southern Railway Taphouse in Shockoe Slip.
The Free Press left a phone message and sent an email seeking comment, but did not receive a response.

Rather than creating a scene, the Whitlow party went to another restaurant.
"It was blatant discrimination," said Ms. Colbert, who works for a Richmond TV station.
They are not alone in their views. Several people posted on District 5's Facebook page of having similar experiences. Along with the favorable reviews, there are postings from people who were affected by the "dress code."

On Sept. 2, Casey McGoff, who identified himself as white, wrote that he went to District 5 with "my best friend, who is black. The bouncers wouldn't let him in because of his sneakers. I walked in and took pictures of multiple white guys who were wearing the same shoes."
Since the passage of the 1965 Civil Rights Act, it is illegal for restaurants, hotels and other businesses open to the public to ban customers on the basis of race, color, national origin, gender and similar criteria.