Highland Springs hoping for 3-peat at Saturday's state championship
Fred Jeter | 12/8/2017, 7:04 a.m.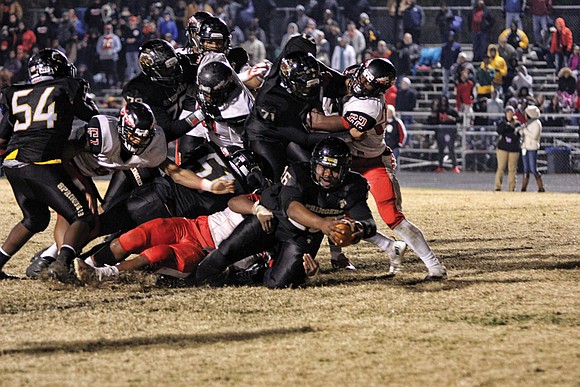 Highland Springs High School is on the cusp of achieving something seldom done in state football history.
Football Coach Loren Johnson's Springers are one victory from a "three-peat" of the state 5A Virginia High School League title.
Riding the momentum of a 13-game winning streak, the Henrico County school will face Tuscarora High School of Leesburg at noon Saturday, Dec. 9, at Hampton University's 12,000-seat Armstrong Stadium.
The Springers, with a 13-1 record, haven't lost since a 14-9 setback to Hermitage High School in the first game of the season on Aug. 25. The Springers avenged the loss with a 24-14 win over Hermitage High in the 5A South Region finals.
Highland Springs advanced to the state final after a 28-18 triumph last week at home against Nansemond River High School of Suffolk.
Dre'Shawn Taylor, a 245-pound freshman, rambled for 75 yards and two late touchdowns. Quarterback D'Vonte Waller passed for 219 yards, and Billy Kemp made six receptions for 86 yards.
Tuscarora High is 12-2 after beating Stafford Senior High School outside of Fredericksburg 20-17 in the other state semifinal game.
The Springers are on a three-year roll with a dazzling record of 42-3.
Highland Springs won the 2015 state crown with a 27-7 victory over Stone Bridge High School of Loudoun County. A year ago, the Springers won the title again with a 35-29 triumph over Stone Bridge.
Coach Johnson, who has coached the Highland Springs team since 2008, is navigating his talented teenagers into rare air. Since the start of VHSL record keeping in 1920, just a handful of schools have become "three-peaters" in the Class AAA division, which was split into Class 6 and Class 5 in 2013.
The all-time champs for consistent brilliance were Hampton High School, with four straight crowns in Division 5, 1995 through 1998, and Phoebus High School in Hampton, with four straight titles from 2008 through 2011.
L.C. Bird High School of Chesterfield County won three straight titles in the AAA Division 6 in 2012 and Division 5 in 2013 and 2014.
Long before the VHSL introduced a playoff system in 1969, Hopewell High School won three straight titles — 1949, 1950 and 1951 — and Jefferson High School in Roanoke was the AAA champ in 1922, 1923 and 1924.
The Springers won their first state title (AAA) in 1961 under Coach Al Rinaldi, when the champ was determined by a vote of Associated Press sports writers.
In 1978, Highland Springs lost to Annandale High School in the state AAA finals again with Coach Rinaldi.