It's a 3-peat!
Highland Springs High School wins third consecutive state football title
Fred Jeter | 12/15/2017, 7:29 a.m.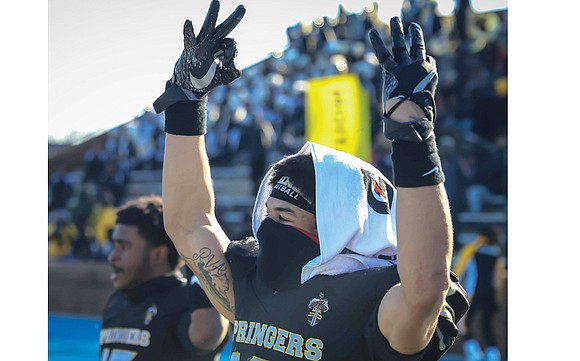 Highland Springs High School's talented and determined football Springers have done it again.
The Eastern Henrico County squad, aka the "Beast of the East," is Virginia's 5A football champion for a breathtaking third straight season.
Finishing the season 14-1, the Springers three-peated on Sunday, Dec. 10, with a decisive 40-27 victory over Tuscarora High School of Leesburg at Hampton University's Armstrong Stadium.
The game wasn't even close. The Springers led 33-6 at halftime before hitting cruise control.
The game was played on a Sunday, a rarity for public schools, because of Saturday's postponement for snow.
The skirmish will be remembered not only for what happened during the game, but what happened afterward in a packed communication room.
In the postgame press conference, Highland Springs High School Coach Loren Johnson made it abundantly clear his program is about much more than scoring and preventing touchdowns.
Before taking any game questions, Coach Johnson made this announcement:
"For a long period of time, I'm hearing all this negative — about how bad the East End is, how bad Highland Springs is, how we're not this and not that.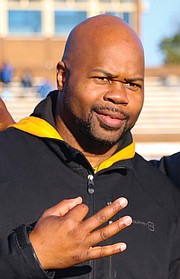 "Well, in the East End we're starting something — call it a revolution if you will. But our program is all about young black men, African-American men, being successful in all they do and how they carry themselves."
Coach Johnson went on to say the standards he expects from players on the gridiron are just as high in the classroom and in the community.
Undeniably, the Springers rank with the most successful programs in state annals. They're now 42-3 during the three-year championship run and 52-4 counting 2014 when the team's lone loss was to eventual state champ L.C. Bird High School of Chesterfield County.
Highland Springs is only the eighth school in state history, dating to 1920, to punch its championship ticket for three consecutive campaigns.
Coach Johnson's team won this go-round despite numerous graduation losses from the 2016 cast. Notable in their absence were Juwan Carter, now the starting quarterback at Norfolk State University, and huge lineman Mekhi Becton, now at the University of Louisville.
Additionally, Jaiden Reavis made the All-CIAA freshman team at Virginia Union University.
Last spring on NCAA signing day, an astonishing 22 Springers revealed their college gridiron intentions. The cupboard was left far from bare, however.
Junior quarterback D'Vonte Waller was brilliant as Carter's successor, passing for more than 2,200 yards.
Receiver Billy Kemp emerged as the game-breaking receiver and has accepted a scholarship to the University of Virginia. Kemp jump-started the scoring in Hampton with a 32-yard touchdown reception from Waller on the opening possession.
A relay trio of ball carriers — Rayquan Smith, Shyrie McKeiver and Dre'Shawn Taylor — took turns dancing in the end zone.
Taylor, dubbed "Amtrak," is a bulldozing 245-pound Springers freshman already turning the heads of college scouts.
Only Hampton (1995-98) and Phoebus high schools (2008-2011) have won four straight state crowns on the former Group AAA level, now called Class 5 and 6.
The Springers seem capable of pledging that distinguished fraternity in the 2018 season. Along with a powerful cast of returnees, Coach Johnson will greet many gifted arrivals from this season's undefeated junior varsity.
"I can't wait for July 31, 2018," said Coach Johnson, referring to the opening of the 2018 preseason drills.
In fact, Henrico East Enders already have embraced a 2018 slogan: "Go 4 It!"